Jake Bugg to join the Bill for Bushmill Live 2013 - 2nd May, 2013
SONS AND LOVERS, FOY VANCE, IAIN ARCHER, WILLY MASON AND BEAR'S DEN also set to join JAKE BUGG and previously confirmed headliners OF MONSTERS AND MEN at the only music festival in an Irish whiskey distillery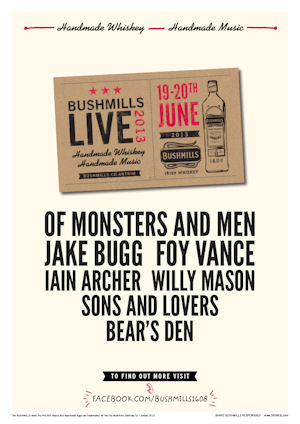 Bushmills Village: 2nd May 2013: Breakthrough act of the year, British singer-songwriter Jake Bugg has today been added to the bill for Bushmills Live 2013, alongside headliners Of Monsters and Men. Troubadour Jake Bugg will perform for an audience of just 500 at Bushmills Live in June, ahead of taking to the Pyramid Stage at Glastonbury this summer.
Jake will be in good company at the festival, playing alongside Sons and Lovers, who have just finished touring the UK with Ellie Goulding and US artists, One Republic; Willy Mason and Bear's Den, who have both toured heavily with Mumford & Sons earlier this year; and friends of the festival and successful Northern Irish singer songwriters, Iain Archer and Foy Vance.
Iain and Foy are set to make a triumphant return to Bushmills Live following electric performances in 2012. Since playing at the festival last year Foy has toured Europe and the US with Ed Sheeran and Iain has worked with headliner Jake Bugg to co-write and produce tracks for his number one debut album, earning them an Ivor Novello Award nomination*.
With just days to go until the draw for tickets closes, Iain reveals he is looking forward to playing at the festival in the Old Bushmills Distillery: "Bushmills Live is a unique experience: the line-up could rival some of the biggest festivals but with a much smaller crowd in a really cool setting. It's really like a festival of friends hanging out and making some great music together. I'm really looking forward to seeing Jake playing live - although we've written and produced together, we've never actually been on the same live bill so this will be a first."
"With last year's festival being such a smash, it was always going to be a challenge to improve on the line up - that said, I think we've done it. One of the goals with the festival is to offer an event that is special for fans and performers alike. With the festival circuit in the UK growing annually, it's a real challenge to create a day that stands out. We hope that Bushmills Live will be a festival that everyone looks forward to," commented Graham Brown, festival curator. He continued: "I'm really pleased to be part of such an event that hosts internationally-renowned acts alongside critically-acclaimed emerging artists in such a unique setting. If you haven't entered the draw for tickets yet enter now - don't miss out!"
Tickets cannot be bought for the 500 person event which takes place on 19th and 20th June 2013 in the grounds of the historic Old Bushmills Distillery on Ireland's stunning North Coast. Instead these can be won by entering a draw on the Bushmills Irish Whiskey Facebook page – facebook.com/bushmills1608* entry closes at 23:59 on 5th May 2013.
*To win tickets to Bushmills Live or to find out more, visit facebook.com/bushmills1608. Entry closes at 23:59GMT 5th May 2013. Winners will be notified by 9th May. Terms and conditions apply.
The Facebook competition is open to people of legal purchasing age, in:
Great Britain
Republic of Ireland
Northern Ireland
Germany
Portugal
Russia
USA
Canada
Czech Republic
Latvia
From each, one pair of finalists will win tickets to 'Bushmills Live'.
<< Back to all the latest whisky news brought to you by Planet Whiskies