Eddie MacAffer, voted Whisky Distillery Manager of the Year at Whisky Magazine's 2013 Icons of Whisky Awards - 27th March, 2013
If you would like to view all the malts from Bowmore Distillery please click here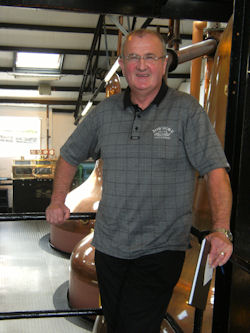 This week (25th March 2013) Morrison Bowmore Distillers are raising a dram to Bowmore Distillery Manager Eddie MacAffer as he scoops a Whisky Magazine's Global Icon Award.
The awards, which are designed to celebrate the people and places behind the great whiskies of the world are judged by an international panel that vote over four rounds for companies based in Scotland, USA and the rest of the world. The Distillery Manager Award is one of two new categories for the awards this year.
Eddie MacAffer has been skillfully caretaking the Bowmore Distillery for over 40 years, as a man and boy. Starting his career back in 1966 Eddie has worked his way up the ranks, helping Bowmore through difficult and challenging times. His pride and passion for the distillery is evident as he takes the tours at the Distillery, with his impeccable knowledge having worked across all areas of the Distillery: the warehouse, malt barn, head maltman, brewer, head distiller and to distillery manager.
Eddie says of his success 'I am extremely proud for myself, my family, Bowmore Distillery and Morrison Bowmore Distillers that I was presented with this honour'.
Eddie has released a number of whiskies in his time including 12, 15, 18, Surf, 17, Tempest 10, Engima12, Mariner15, Laimrig 15 as well as some rare whiskies and Islay festival special bottlings.
<< View the range of Bowmore Single Malt Whiskies
<< Back to all the latest whisky news brought to you by Planet Whiskies