Auchentoshan Single Malt Scotch Whisky Unveils Rare 1975 Expression | 17th December, 2013
Exclusively For Travel Retail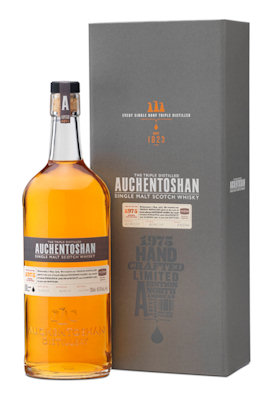 December 2013: Auchentoshan, Scotland's only triple distilled Single Malt Scotch Whisky, has released a rare limited edition of the 1975 expression exclusively to travel retail. With only 500 bottles in existence, only the lucky few will be able to savour this rare, cask strength non-chill filtered Single Malt, which has been aged in hand-selected, north American bourbon casks for over 38 years.
Following on from the success of the first batch released in the domestic market in 2011, this second release of the vintage has been matured for an additional year giving it its particularly fresh, dewy fruity qualities. It becomes part of a series of superb vintage releases from the late 1970s including the 1979 sherry matured and the 1974 bourbon matured.
Presented in a premium slate grey double fronted box, both the carton and the bottle deliberately retain a subtlety and understated luxury best reserved for higher aged vintage releases. Once opened the box reveals a stunning design using barrel staves. Labeling is minimal with both the name and label appearing slimmer to reveal the liquid as the true hero. The neck of the bottle is also clear exposing the natural cork. The date of bottling is written on each of the bottles.
Auchentoshan triple distils every drop meaning the spirit produced reaches 81.5% ABV, significantly higher than most distilleries in Scotland. The lightness of the liquid enables it to absorb every characteristic it is exposed to in the cask. It is this smooth distillate paired with the carefully selected oak casks that gives Auchentoshan an unmistakably light and fruity flavour.
Auchentoshan Unveils Rare 1975 Expression - Master Blender Rachel Barrie says
Auchentoshan Master Blender Rachel Barrie says "Having spent an additional year maturing in the highest quality North American bourbon casks, the 2013 bottling of Auchentoshan 1975 allows the drinker to experience the complexity and ripe, developed fruit flavours associated with a whisky of this vintage.''
Tasting notes:
To the eye: Copper gold.
To the nose: Ripe, sun-drenched fruits: pears, figs and honeydew melon.
To the palate: Papaya and pink grapefruit, with baked pineapple and almond cake.
The finish: Subtle notes of white grapes, elderflower & almonds.
There will be 500 bottles available globally in a range of international airports priced at £500+ with an ABV of 45.6%.
For more information visit www.auchentoshan.co.uk
<< See more malts from the Auchentoshan Distillery
<< Back to all the latest whisky news brought to you by Planet Whiskies