Yorkshire start-up whisky and gin distillery strengthens team with first full-time appointment
Published Date: 26th April 2019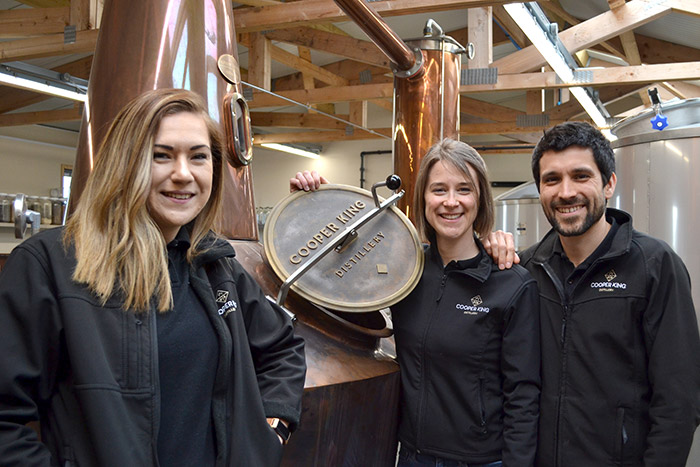 Laura Bartram joins Cooper King Distillery team
A Yorkshire-based start-up distillery has appointed its first full-time employee alongside the founding duo.
Laura Bartram has joined Cooper King Distillery as events and development manager to support the company's rapid growth.
Based in Sutton-on-the-Forest, Cooper King Distillery is England's first self-built gin and whisky distillery.
Laura, who hails from Pickering, has an array of experience in the drinks industry, having established and managed a speakeasy-style cocktail and gin bar for the last three years.
Laura's main duties at Cooper King Distillery are managing a number of on- and off-site events, developing cocktails for the distillery bar and new releases, and assisting with production of spirit.
With a wealth of knowledge of photography and digital media following studying at Newcastle College, Laura's ability to create online content has also proved invaluable to the business.
Founded in 2016 by Chris Jaume, a chartered architect and Abbie Neilson, a scientist, Cooper King Distillery is the first self-built gin and whisky distillery in the country. Having released its inaugural gin earlier this year, whisky production is set to commence this summer.
Commenting on Laura's appointment, co-founder Abbie Neilson said:
"We're delighted to have welcomed Laura to the Cooper King team; this has been an extremely exciting year for us and it's fantastic to have Laura joining the journey. We were immediately impressed with Laura's experience and she has already proven to be a real asset to the team, it's a pleasure to have her on board!"
Laura Bartram added:
"I am thrilled to be working for Cooper King Distillery, an exciting start-up company with such an inspiring story behind it. It's great to be able to apply the industry knowledge I've gained into a company which is continuously focused on having a positive impact on the environment and creating fantastic, innovative spirits." 
The news comes as Cooper King Distillery has recently scooped triple bronze in the UK Bartender Brand Awards, as well as a finalist nomination in the Spirit of Gin category in The Gin Guide Awards 2019. This award category is not open for entry and is nominated by writers, bloggers and influencers in the industry. Cooper King Distillery received multiple nominations based on their approach to green energy and environmental initiatives.
<< View Scottish Single Malts on Planet Whiskies
<< Back to all the latest whisky news brought to you by Planet Whiskies