Create The Perfect Drinks Trolley This Festive Season With Woodford Reserve's Limited Edition Whiskey Gift Range
Published Date: 31st October 2019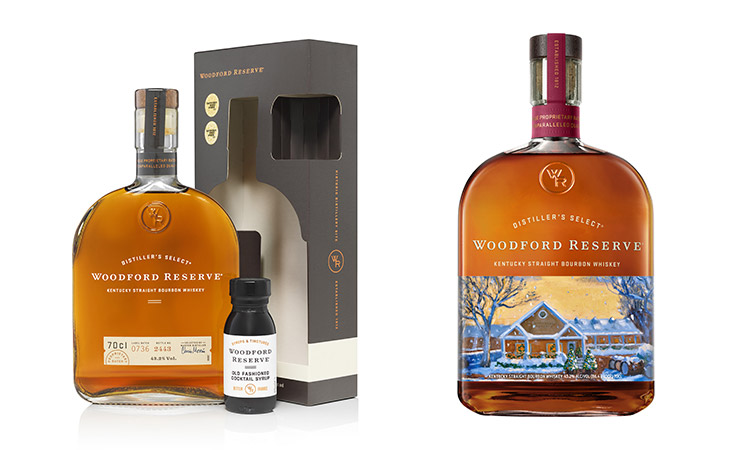 Thursday 31 October 2019, London UK – Whether for you or a loved one, celebrate with WOODFORD RESERVE®'s unique holiday gift selection, from the Woodford Reserve Bourbon Gift Pack – for those partial to an Old Fashioned cocktail – to the Woodford Reserve Malt, the Scotch drinker's whiskey of choice. Perfect for seasoned whiskey aficionados and cocktail enthusiasts alike, Woodford Reserve's award-winning family of American Whiskeys offers a gift that will befit every celebratory occasion this winter.  
A WARM WELCOME FOR WHISKEY LOVERS; FROM RRP £32.00
Revered for its rich and full-bodied flavours brought out by the masterful artisanal process behind every bottle, Woodford Reserve Bourbon is one of the world's most celebrated bourbons, with over 200 detectable flavour notes. So what better way to gift your loved ones during this year's festivities than with a bourbon that has truly made its mark and a limited edition bottle. From bold grain and wood notes, to sweet aromatics, spice and fruit, Woodford Reserve Bourbon can be served as a digestif after dinner, on the rocks, or as the basis for a cocktail, thanks to its unique mashbill of 72% corn, 18% rye and 10% malt.  
The special limited edition bottle depicts a holiday landscape from the Woodford Reserve Distillery. For over 20 years, guests have visited the national historic landmark to enjoy Woodford Reserve Bourbon, take in the scenery and learn about its history. Painted by renowned Kentucky-based artist, Suzanne Enriquez Dougherty, the snowy scene showcases the stylistic approach to her work bringing the warmth of the holiday spirit at the distillery to life. 
Unusual also for being triple distilled for extra smoothness, this iconic spirit is a versatile foundation for your favourite festive tipple. 700ml bottle available from Tesco for RRP £32.00, reduced to £25.00 from 29 October until 18 November.
AN OLD FASHIONED HOLIDAY; FROM RRP £32.00
Roll out the drinks trolley this December and pour out the world's number 1 classic cocktail*, the Old Fashioned, with Woodford Reserve's Old Fashioned Cocktail Syrup, created in collaboration with a selection of the world's best bartenders. Made using bitters, sugars and botanical extracts, the syrup makes light work of the classic American cocktail and has been developed to carefully complement the signature taste of Woodford Reserve Bourbon, including rich fruits, caramel, spices and vanilla – the true taste of the festive season.
Creating an authentic Old Fashioned to pair with the indulgent delights of holiday gatherings couldn't be easier with one of two distinct gift packs. Choose from either one, featuring both the 60ml Woodford Reserve Old Fashioned Cocktail Syrup and the award-winning 700ml Woodford Reserve Distiller's Select Bourbon (available from selected Waitrose and Amazon stores for £32), or the other that comes complete with Old Fashioned glassware and a 200ml bottle of Woodford Reserve (available from selected Sainsbury's stores at £18). 
RECIPE:
Pour 50ml of Woodford Reserve Bourbon into your favourite rocks glass
Add 10ml of Woodford Reserve Old Fashioned Cocktail Syrup
Stir with a large block of ice for 10 seconds and garnish with an orange zest
THE SCOTCH DRINKER'S WHISKEY; FROM RRP £35.00
For those who enjoy a Scotch as they nestle down post-supper but are seeking a new experience, reach for Woodford Reserve Malt. With an emphasis on the nuttiness of grain and toasted oak of the barrel, Woodford Reserve Malt Whiskey gives a more buttery flavour than its bourbon counterpart, an ideal pairing for the rich flavours of any festive dessert.  
Whilst most people associate malt whiskey with Scotland, Kentucky has a history of malt whiskey production pre-prohibition, which Woodford Reserve has drawn on for inspiration. Crafted from 51% malt and aged in new charred oak barrels the result is a whiskey that is flavourful with notes of dark chocolate, dried fruits, caramel coated nuts and a trace of toasted coconut. 
700ml bottle available from Asda for RRP £35.00.

<< View Scottish Single Malts on Planet Whiskies
<< Back to all the latest whisky news brought to you by Planet Whiskies