Choose a more adventurous gift this Fathers' Day with Mackinlay's the journey - 25th March, 2013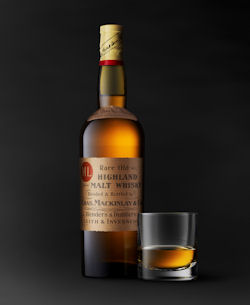 Forget tired ties, golf-balls and the standard socks – this Father's Day treat your Dad to something a little more adventurous.
Mackinlay's "The Journey", also known affectionately as 'Shackleton's Whisky' is a replica of the century-old whisky discovered under explorer Sir Ernest Shackleton's hut in the Antarctic.
The brave explorer attempted to journey to the South Pole in 1907 and along with many other provisions he elected to take 25 cases of Mackinlay's whisky with him to fortify his men on the perilous journey. Over 100 years later, the team at the Antarctic Heritage Trust (AHT) discovered three cases of whisky buried deep within the ice at Shackleton's icy Cape Royds base.
After the whisky's discovery, three bottles were flown back to Scotland to Whyte & Mackay's Master Blender, Richard Paterson, who undertook the official analysis on the 'whisky find of the century'. Richard and his team spent 8 weeks marrying and blending malts to get an exact replica of the century old whisky.
Following the huge success of its original recreation – 50,000 bottles were snapped up by whisky aficionados in a matter of months -which raised £250,000 for conservation projects - Mackinlay's were prompted by a request from the AHT, to release a second edition to raise much needed funds for the conservation of the expedition bases on the Antarctic. This edition, which tastes exactly like the first, is called Mackinlay's The Journey.
The delightful blended malt comes authentically packaged in a hexagonal shipping case, packed to resemble the original straw-bound casing of the bottles found in the Antarctic. The pack contains information and historical memorabilia - a map of Shackleton's journey and original photographs from the expedition - making Mackinlay's, 'The Journey' a really special present for Dads across the country this Father's Day.
Richard Paterson, Whyte & Mackay's renowned master blender says: "Nosing, tasting and recreating this amazing piece of history was the highlight of my 40 year career. Shackleton's story is truly remarkable and it really has become whisky story of the century. Everything about this whisky is exciting – from the taste to the scent to the story – what better present to get dads and whisky drinkers across the country this Father's day."
Mackinlay's The Journey, is available at selected whisky specialist stores. For more information please visit: www.theshackletonwhisky.com
<< Back to all the latest whisky news brought to you by Planet Whiskies