Wemyss Malts new season's Single Cask Releases - 15th July, 2013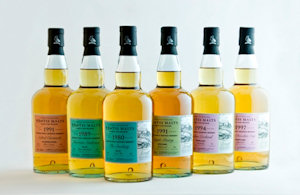 Edinburgh based boutique Spirits Company Wemyss Malts is delighted to announce the release of their latest single cask single malt Scotch whiskies.
Of the 6 casks released this month, 2 of them were distilled in 1991 – the year which saw the dissolution of the USSR, the first website go on line, Dublin become European Capital of Culture, and Silence of the Lambs win Best Picture in the Academy Awards.
Each cask is a celebration of the unique and contrasting appeals of the different Scotch whisky regions. Wemyss whiskies are each identified by their natural taste and aroma and the full cask list of this release comprises:
"Apple Pastry" – 1991 single cask from Linkwood, Speyside
"Salted Caramels" – 1991 single cask from Glen Scotia, Campbeltown
"The Smokery" – 1980 single cask from Caol Ila, Islay
"Maritime Embrace" - 1989 single cask from Bunnahabhain, Islay
"Melon Cocktail" – 1994 single cask from Aberfeldy, Highlands
"Spiced Chocolate Cup" – 1997 single cask from Clynelish, Highlands
Each cask has been selected and named by the Wemyss tasting panel, under the watchful eye of industry aficionado Charlie Maclean. There are only a few hundred bottles from each cask and the suggested retail prices range from £67 to £125. These bottlings will be available in selected retailers in the UK, EU and key Asian markets.
William Wemyss, Founder and Managing Director at Wemyss Malts, commented: "As always we have selected casks from a range of Scottish distilleries which showcase some of the best single casks the industry has to offer. From the delicate smoky subtlety of the 33 years old "The Smokery" to the pair of 1991 single casks, we are confident that this selection will give Wemyss Malts fans another hard choice of which bottle to buy!"
Read more about Wemyss Malts and buy online
<< Back to the Wemyss Malts main page
<< Back to all the latest whisky news brought to you by Planet Whiskies