Latest News from the whisky industry - The Black Grouse
The below information is from The Famous Grouse and the contents has not been modified.
The Black Grouse agrees sponsorship deal with London Scottish FC rugby team - 18th March 2010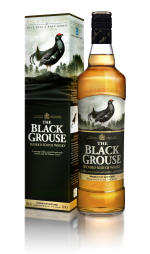 The Black Grouse – a new blended whisky from The Famous Grouse – is continuing the family tradition by agreeing a new rugby sponsorship deal with London Scottish FC and extending the brand's connection with Rugby.
This announcement comes as The Famous Grouse, Scotland's Favourite Whisky, enters its 20th year as the official 'Spirit of Scottish Rugby', following its long term support of Scottish Rugby Union.
Launched in 2008, The Black Grouse whisky has been developed to attract blended Scotch drinkers who are looking for a dram with a richer taste profile. It subtly marries the smoothness of The Famous Grouse with the aromatic, gentle smokiness of additional peated malts.
London Scottish FC is a rugby club with a long and proud history. Originally formed in 1878 for exiled Scots in London, the club has since produced 221 international players for Scotland including Gavin Hastings, Mike Biggar and Al McHarg.
In recent years the club has faced difficult times. In 1999 the club was placed into administration and demoted nine divisions by the RFU. Since then the club has been promoted seven times in the last ten seasons to reach the National 1 division. The club's goal is to be in the Championship by 2012-13.
The one year sponsorship deal with The Black Grouse includes branding in the ground and club house alongside a number of corporate hospitality packages.
Derek Brown, Brand Heritage Director, The Famous Grouse commented: "The sponsorship deal with London Scottish is an important step in the development of The Black Grouse brand. London Scottish is a famous club with a proud heritage and strong links with Scotland, echoing our core values.
The spirit of the team over the past ten seasons in the pursuit of their goal to rejoin the Premiership is inspirational, and we wish them every success."
The Black Grouse is distributed by Maxxium UK. For more information on The Black Grouse please visit www.black-grouse.com.
Please enjoy responsibly www.drinkaware.co.uk
<< Back to all the latest whisky news brought to you by Planet Whiskies