The Singleton Of Glen Ord Launches Its First Ever Limited Edition Distillery Exclusive Bottling
Published Date: 4th October 2019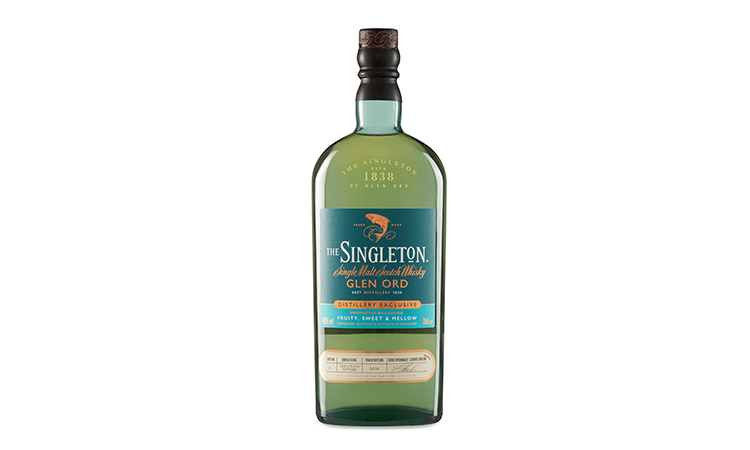 The Singleton of Glen Ord distillery has released its first ever limited-edition Single Malt Scotch whisky that is exclusively available to purchase at the Highland distillery. With just 6000 bottles available, The Singleton of Glen Ord will retail at RSP £90 per 70cl bottle and is bottled at 48% ABV.
Daniel Cant, the Senior Site Manager at Glen Ord, said: "This unique liquid perfectly captures the essence of Glen Ord distillery character, with our famous green fruity flavours shining through in this release. Our motto is Luceo non uro, inspired by our founder from the Clan Mackenzie. It means "I shine not burn" and continues to inspire us today with our emphasis on slow batched distillation. With this vision, the distillery team have crafted this outstanding bottling to celebrate our history and create a special memento of whisky history for our visitors to take home and enjoy."
Maturing in a mixture of refill casks and ex-bourbon American oak casks brings a gentle vanilla and spice to the distillery character, helping to extend the finish to end with a long, lingering taste. On the nose, there is a fresh, balanced yet vibrant aroma with crisp orchard fruits including green apples and ripe pears, accompanied by gentle notes of floral and spice. On the palate, there is an initial burst of orchard fruits, swiftly followed by wood spices and vanilla fudge. The spice character lingers, prolonging the overall finish. After a moment, the spice fades, leaving a buttery texture with a hint of nearly-ripe peaches. With a splash of water, the fruity flavours become more pronounced, thus making the flavour profile lighter and more vibrant. Some ester notes can be found, with bursts of foam bananas and pear drops, originating from the use of ex-bourbon casks.
This new The Singleton of Glen Ord bottling is the perfect collector's item for Scotch fans and allows visitors to the legendary distillery to take a piece of history home with them, and to savour a dram long after their whisky pilgrimage has ended.
Quick view about The Singleton of Glen Ord Limited Bottle
RSP: £90.00 ~~ ABV: 48% ~~ AGE: NAS
No. of bottles: 6,000
Available from: Only available to purchase at Glen Ord Distillery.

In brief… Orchard fruits with notes of vanilla and gentle spice, with a long finish
<< Read more about the Glen Ord Distillery
<< View Scottish Single Malts on Planet Whiskies
<< Back to all the latest whisky news brought to you by Planet Whiskies