Walsh Whisky: Amber Beverage Group releases oldest age-statement single malt in The Irishman range
Published Date: 4th August 2023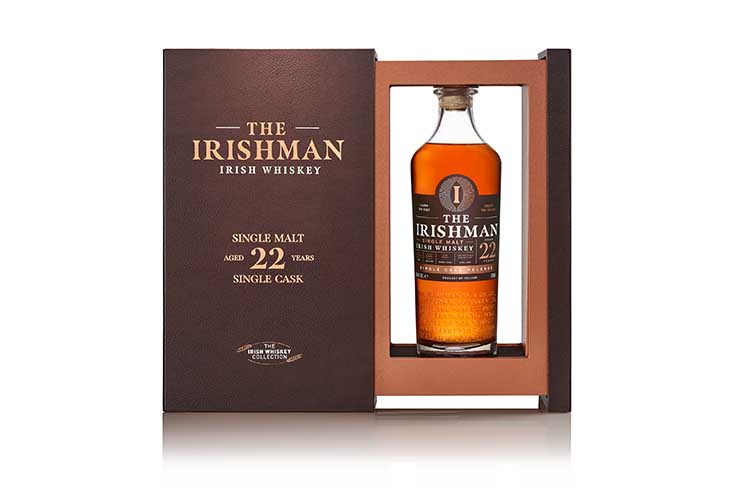 The Irishman ® 22-Year-Old Single Malt launched as a Global Travel Retail exclusive
Exclusively available to The Irish Whiskey Collection at The Loop in Dublin and Cork Airports
Only 600 bottles released in 2023
4th August 2023: Amber Beverage Group, through its centre of whiskey excellence at Walsh Whiskey, has released the oldest age-stated single malt in it's The Irishman ® range as a global exclusive in partnership with Aer Rianta International. The Irishman 22-Year-Old Single Malt is exclusively bottled for The Irish Whiskey Collection and will be available exclusively at The Loop in Dublin and Cork Airports.
Distilled right after the millennium, in 2001, and matured in American oak bourbon barrels for its first 21 years, this superior single malt was further matured for an additional 12 months in tawny port barrels from sunny Portugal's Douro Valley. Bottled at cask strength at an ABV of 49.43% and non-chill filtered, each bottle is numbered and presented in an elegant leather case. The recommended retail price is €500.
Through The Irishman portfolio, Walsh Whiskey continues to push the boundaries in its goal to broaden out the taste profile of Irish Single Malt. The Irishman 22-Year-Old Single Malt is the first ever double-distilled expression in The Irishman range. Double distillation was a distillation style prevalent in Ireland centuries ago and The Irishman seeks to learn from the past to explore and challenge what Irish single malt means today, doing so through distillation methods, age, maturation and cask finishing.
Commenting on the oldest aged-stated whiskey and first ever double-distilled whiskey in The Irishman range, Walsh Whiskey's Managing Director, Bernard Walsh said: "I am delighted to have been able to source and finish this rare whiskey to my own taste. It takes The Irishman portfolio, which is dedicated to being single malt-led, to new ground. I know that the discerning clientele of The Loop in Dublin and Cork will savour the opportunity to experience and perhaps even share some of it with the best of friends and family."
Tracey Jordan Liquor & Tobacco Buyer at ARI said: "At ARI, our goal is to be the go-to destination for customers to explore the finest liquor brands from around the world. We are always eager to innovate and offer travellers exclusive products and unforgettable experiences they won't find elsewhere. We're thrilled to be selected by Walsh Whiskey as the exclusive partner to launch The Irishman 22-Year-Old Single Malt. This prestigious addition to our award-winning range is sure to be highly sought-after and an exciting addition to any whiskey connoisseur's collection."
A total of 600 bottles will be released exclusively to The Loop this year and 600 more in 2024.
Tasting Notes to The Irishman 22 Year Old Single Malt:
Nose: A dried fruit larder, distinctive but delicate.
Taste: Hint of sweetness; candied orange, warm spices and dark chocolate
Finish: A soft warmth belying its strength.
Colour: Glows with a soft ruby orange hue.
More Whisky News