The Dalmore Valour takes Gold at International Wine and Spirits Competition (IWSC) 2017: 9th August, 2017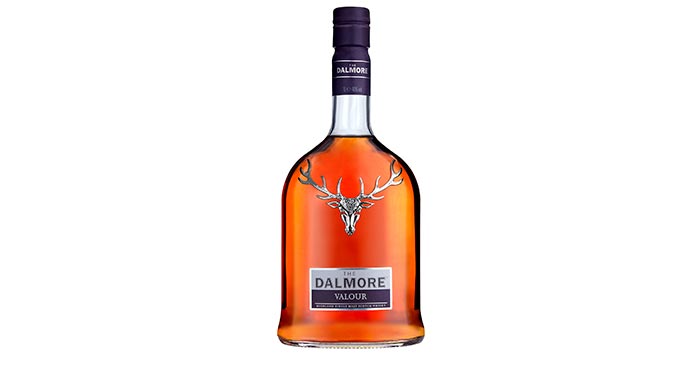 The Dalmore has won a Gold Medal and a Gold Trophy at the International Wine and Spirits Competition (IWSC) 2017 for the highly regarded travel retail exclusive The Dalmore Valour.  
Judges scored The Dalmore Valour 93+, awarding the whisky a Gold Outstanding Medal and a Gold Trophy in the Single Malt Scotch Whisky No Age Stated category at this year's IWSC awards. 
The Dalmore Valour was the first release from the distillery's Fortuna Meritas collection, a range of travel retail exclusive whiskies which celebrate the unique and rare casks used in crafting the traditional house style of The Dalmore. 
The spirit is initially matured in American white oak ex-bourbon casks, which gifts it with its first base of soft vanilla notes.  The spirit is then carefully divided between port pipes from the Douro region of Portugal and Matusalem oloroso sherry casks, exclusively provided by the renowned by Gonzalez Byass Bodega.  Here they are given an extended period of time to mature before they are reunited back together to harmonise in an upstanding sherry butt. 
The spirit was judged to have velvety notes of plums and damsons, with some quince jelly and hints of delicately smoked meats. Judges described a palate which gives a richness of cookie dough, crème brulee topping, plums and sour cherry. In terms of its finish, the panel found hints of spice and more fresh cherry notes. 
Richard Paterson, Master Distiller of The Dalmore said: "It is an honour for The Dalmore Valour to be recognised and commended by the judges at this year's IWSC awards. The expression is a great example of The Dalmore's pioneering approach to exquisite cask curation and multi stage maturation, enabling us to create rich and sumptuous whiskies. The use of rare Matusalem oloroso casks gifts the spirit with aromas of citrus fruit and crushed almonds on the nose, whilst the additional layer of complexity from the port pipes adds notes of plums and dark forest fruits. The combined effect of these flavours creates something rather special." 
The Dalmore distillery was founded in 1839 and, through its unbroken chain of exceptional whisky creators, has defined the single malt whisky category ever since. Since taking the reins as Master Distiller nearly 50 years ago, Richard Paterson has been the pioneering force behind The Dalmore, responsible for creating some of the world's most coveted and iconic whiskies. Richard has achieved a number of world firsts, including the six-cask matured The Dalmore King Alexander III and releasing the first ever five red wine finished whisky, The Dalmore Quintessence
<< View The Dalmore Range of Scottish Malt Whisky
<< Read more about The Dalmore Distillery
<< Back to all the latest new brought to you by Planet Whiskies