The Balvenie launches a unique new 'stories' range, three tales of character written in whisky
Published Date: 23rd May 2019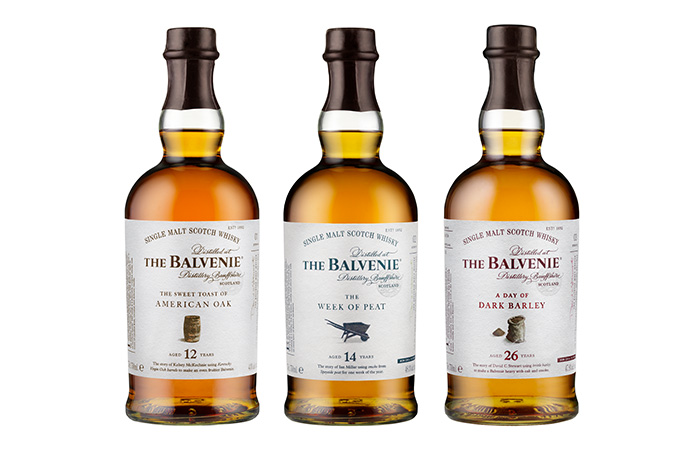 The Stories range celebrates human tales of endeavour, craft and unexpected twists, as told by its craftsmen at the distillery in Dufftown, Scotland

Three new expressions, titled The Sweet Toast of American Oak, aged 12 years, The Week of Peat, aged 14 years and A Day of Dark Barley, aged 26 years, launch today, each bringing to life its own unique and interesting story

Both whisky enthusiasts and story lovers can listen to these tales, as told by the craftsmen themselves, via specially recorded audio conversations captured at key locations

This autumn, in partnership with leading independent publisher Canongate, The Balvenie will publish an accompanying book 'Pursuit – The Balvenie Stories Collection', a curated collection of short tales by acclaimed writers from around the world
 On the 21st May The Balvenie announces the launch of its new Stories range – a unique collection of three single malt whiskies representing tales of character, endeavour and craft, created at its home in Dufftown, Scotland. 
While always looking forward, The Balvenie remains true to the techniques passed down by its craftsmen from generation to generation. As in years past, it remains a place run by people – where human touch, skill, and emotion prevail over machine and automation. In this way, each whisky produced by The Balvenie tells a human story, evolving with the characters and developing unexpected twists through years of maturation. 
These three new expressions of The Balvenie celebrate this – whether it be Apprentice Malt Master Kelsey McKechnie using Kentucky Virgin oak to make a fruitier Balvenie, former distillery manager Ian Millar introducing smoke from Speyside peat, or Malt Master David Stewart MBE using an unusually brittle barley – each expression tells its own tale in liquid form. 
Drinkers will have the unique opportunity to hear these stories in full, as told by the characters themselves, via audio conversations recorded between them and The Balvenie Global Ambassador, Gemma Paterson. These special conversations were recorded at locations featured in each tale, including The Balvenie distillery and as far afield as Kelvin Cooperage, Kentucky, where Kelsey McKechnie sourced virgin oak barrels for The Sweet Toast of American Oak. This audio content, as well as guided audio whisky tastings of each expression with David Stewart and Kelsey McKechnie, is available via an NFC-enabled neck tag, that people connect to using their smartphones. This was designed in partnership with connected product solutions company Thinfilm. 
Commenting on the release of The Balvenie Stories, The Balvenie Malt Master David Stewart MBE says: "Stories are the lifeblood of The Balvenie distillery. They make up the fabric of who we are and what we do. The Balvenie Stories collection tells these tales in liquid form, giving whisky drinkers across the globe a special glimpse into the unique and very human nature of how we produce our whisky. Each expression in the collection reflects this by telling its own story via first-hand accounts and recollections of the many people involved." 
The notion of storytelling informs the design of The Balvenie Stories packaging too, with each tale represented visually on the whisky's tube and label in bespoke illustrations from British artist and printmaker Andy Lovell. Andy's work draws its inspiration direct from the distillery, where he spent time listening to the stories first-hand, before using his bold, hand-made gestural technique to build up images that capture the essence of each tale. 
Following the liquid launch, in autumn 2019 The Balvenie will launch a book titled Pursuit – The Balvenie Stories Collection. Edited by award-winning author and journalist Alex Preston and published by internationally renowned independent publisher Canongate, this collection will contain a series of fiction and non-fiction short stories, by renowned writers from around the world. Authors include internationally best-selling writer Lawrence Osbourne, award-winning British author Max Porter and many more.
The Balvenie Stories collection will launch globally in May 2019 and comprises of the following three expressions;
The Sweet Toast of American Oak – Aged 12 Years – 43% ABV
This is the story of the spectacular things that can happen when ancient technique meets fresh ideas, as newly appointed Apprentice Malt Master Kelsey McKechnie experimented with         twice-toasted white American oak from Kelvin Cooperage in Louisville, Kentucky to produce an even fruitier, sweeter tasting Balvenie.
The Week of Peat – Aged 14 Years – 48.3% ABV
An evolution of The Balvenie Peat Week Aged 14 Years, which launched globally in 2017. This expression tells the tale of Malt Master David Stewart MBE and former distillery manager Ian Millar using a week's gap in the distillery's production schedule to experiment with the use of peat in the barley drying process. The result is a classic Balvenie expression with honey, vanilla and citrus notes with an extra layer of delicate smokiness.
A Day of Dark Barley – Aged 26 Years – 47.8% ABV
The story of Malt Master David Stewart MBE and The Balvenie's malt men experimenting with a heavily roasted dark barley in 1992. The resulting liquid was originally released in 2006 as the 14-Year-Old Balvenie Roasted Malt, however casks were retained for extra maturation, eventually becoming a classic aged Balvenie, but with extra depth and oak notes gleaned from the darker malt. 
The Balvenie Stories collection will be available in select retailers, including Fortnum & Mason, at the following recommended prices*: The Sweet Toast of American Oak £45, The Week of Peat £65 and A Day of Dark Barley £600. Further information on Pursuit – The Balvenie Collection will be distributed at time of launch.
*RRPs are at discretion of the retailer
<< View more malts from the Balvenie
<< Read more about the Balvenie Distillery
<< View Scottish Single Malts on Planet Whiskies
<< Back to all the latest whisky news brought to you by Planet Whiskies