Tamdhu Distillery Welcomes New Manager | Sandy McIntyre | 3rd December, 2014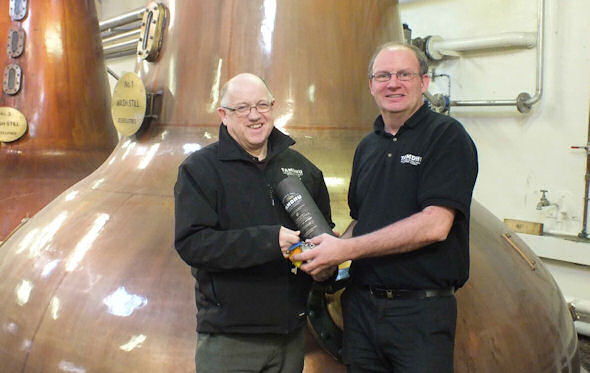 Photo - Sandy McIntyre (right) at Tamdhu Distillery following the departure of Sandy Coutts after 40 years.
It's the end of an era at Tamdhu Distillery as one of the whisky industry's longest serving managers retires and makes way for his replacement.
Tamdhu Speyside Single Malt Scotch Whisky has appointed Sandy McIntyre as the new Distillery Manager, replacing Sandy Coutts who steps down after over 40 years service.
Sandy McIntyre joins Tamdhu Distillery from Diageo where he spent eight and a half years working across Burghead & Roseisle Maltings, Glenlossie and Mannochmore Distilleries and Glen Spey Distillery in Rothes in various positions including Malt Operations and Site Operations, overseeing production, quality, process and energy efficiency.
Sandy will be responsible for the day-to-day operations of Tamdhu Distillery including all aspects of production, warehousing, HR, health and safety, maintenance, spirit and cask quality as well as compliance for the site, and supporting brand development and promotion.
Robbie Hughes, Group Distillation Manager for Ian Macleod Distillers who own the Tamdhu brand, said: "We're really pleased to have Sandy McIntyre on board with us. His previous experience will contribute greatly to the distillery. Having been re-launched less than two years ago, it's a very exciting time at Tamdhu and Sandy will play a key role in its future.
"We would also like to take this opportunity to send our best wishes to Sandy Coutts who will now retire from Tamdhu after more than 40 successful years. We hope he enjoys a very well deserved rest!"
Sandy McIntyre said: "I am really excited to be joining Tamdhu Distillery and I'm looking forward to the challenges the role will bring. The dedicated team at Tamdhu is committed and passionate about our brand and despite only being on site for less than a month that can-dhu-spirit is already felt by myself too.
"Taking over the reins from Sandy Coutts has been a delight and pleasure as he has historical and detailed knowledge of the site and the process, and being able to draw upon that knowledge as part of my hand over has been invaluable. Tamdhu is a quality spirit from a site that prides itself on tradition and nothing is more pleasurable than showing off our people, our process and our product."
Tamdhu is owned by one of Scotland's leading, independent family-owned distillers, Ian Macleod Distillers. Tamdhu was born on the banks of the River Spey in 1897 – an era when anything seemed possible. When obstacles were there to be overcome, an age of the CAN-DHU ATTITUDE. Its quality is defined by the hint of peat in its malted barley, the natural Speyside water which is drawn directly from the Tamdhu spring and the 100% exclusive use of only the finest oak sherry casks.
For more information, please visit www.tamdhu.com.
www.drinkaware.co.uk www.scotch-whisky.org.uk
<< Back to all the latest whisky news brought to you by Planet Whiskies
Distillery of the Month: November 2023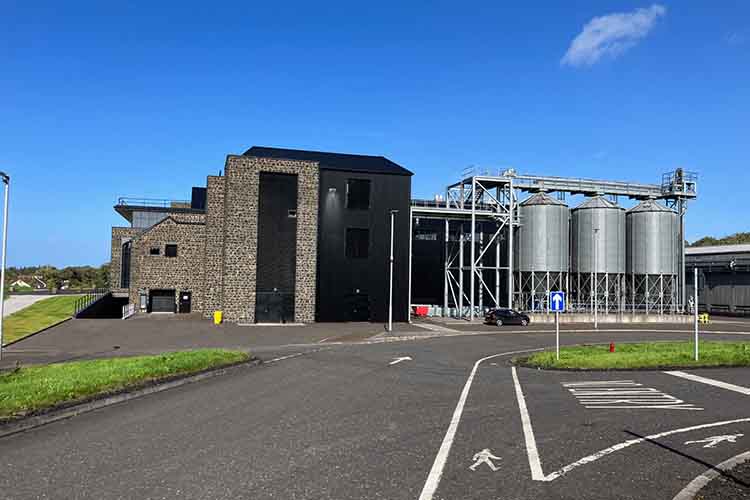 Planet Whiskies visited the new Bushmills Distillery in Northern Ireland on the 25th and 26th of September. Read our review of the experience of Bushmills and Northern Ireland at Planet Whiskies tour of Bushmills and Northern Ireland
You can also read the whole section about Bushmills Distillery at Bushmills Distillery Information on Planet Whiskies... So Bushmills is Planet Whiskies Distillery of the Month title for November 2023
Get Newsletter
Subscribe to our newsletter to get latest news, popular news and exclusive updates.