Chivas Brothers - New Look For Strathisla 12 Year Old - 16th July, 2013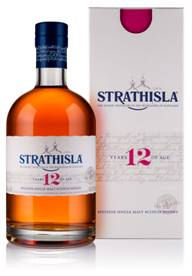 Chivas Brothers, the Scotch whisky and premium gin business of Pernod Ricard, has unveiled a new, modern logo and bottle design for its award-winning Strathisla 12 Year Old single malt whisky to maintain the brand's relevance in today's malt market.
The new packaging combines the brand's unrivalled heritage with a fresh, modern design and is now available in more than 25 markets including the UK, Spain and Asia Duty Free, with the RRP of £40.49 or $49.99.
Made from clear glass with a thick, solid base and wide pouring neck, the bottle has a recognisable malt feel that draws attention to the quality of the whisky. The brand's new logo features on the label as a stylised image of what makes Strathisla the most recognisable distillery in Scotland, its distinctive twin pagodas.
Nikki Burgess, the International Brand Director for Chivas Brothers' Malts Portfolio, says: "Strathisla 12 Year Old has long been considered the connoisseurs' best kept secret as a rare malt whisky produced in limited quantities from a world famous distillery. We are confident that the fresh approach for Strathisla, an example of Chivas Brothers' continued commitment to innovation, will attract both adventurous and established whisky drinkers to the brand and the wider Chivas Brothers portfolio."
Distilled at the oldest distillery in the Scottish highlands, the quality of Strathisla 12 Year Old has been consistently recognised by the world's most esteemed international spirits competitions* and the redesigned bottle is available in both 70cl and 1l formats in a luxury gift box.
<< View malts from the Strathisla Distillery
<< Read more about Chivas Brothers
<< Back to all the latest whisky news brought to you by Planet Whiskies