The Distillers One Of One Scotch Whisky Charity Auction Brings An Outstanding Total Of £2.25 Million / $2.7 Million, Doubling The Pre-Sale Low Estimate
Published Date: 6th October 2023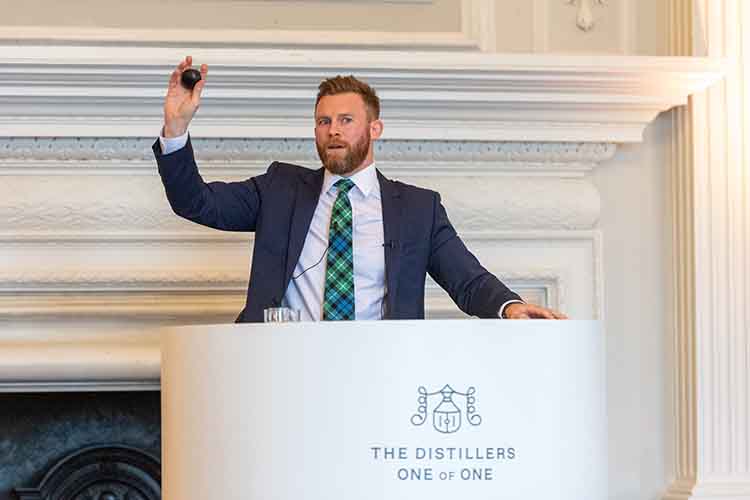 Hammer Proceeds To Primarily Benefit The Youth Action Fund
In Support Of Disadvantaged Young People In Scotland
19 Auction Records Achieved, Including Bowmore, Brora, The Glenturret, The Glen Grant and Old Pulteney
Edinburgh, 6 October 2023 - The Distillers' Charity hosted its second biennial One of One Auction, in partnership with Sotheby's, in the stately Hopetoun House near Edinburgh on Thursday 5 October. Comprising a selection of ultra-rare Scotch whiskies, the 39-lot sale – which attracted lively bidding in the room and fierce bidding online – was attended by some 200 guests from across the globe, and brought an outstanding total of £2,248,750 / $2,715,815, more than double the pre-sale low estimate. Hammer proceeds of £1.8 million from yesterday's auction will primarily benefit The Distillers' Charity's Youth Action Fund, which aims to transform the lives of young people in Scotland aged between 16 and 25, by helping them to develop knowledge, confidence, resilience, and skills. The Youth Action Fund – established by The Distillers' Charity, with the support of Inspiring Scotland, as a vehicle to distribute funds from the One of One Auctions – has assembled a panel of complementary charity partners, each providing expertise and experience in achieving sustainable employability outcomes for young people from disadvantaged backgrounds. Yesterday's result means that the first two Distillers One of One Auctions have raised a combined total of £4.2m for charity.
Grant Gordon OBE, Chairman of The Distillers' Charity, commented that "We're very proud to see that the Scotch Whisky industry has once more come together and raised an incredible amount in support of disadvantaged young people in Scotland. In the past 21 months, with proceeds from the first One of One Auction, over 800 young people who were isolated, disengaged and inactive, have already benefited from support through the Youth Action Fund. This year's auction has once more raised a substantial amount of funds, which will contribute towards our aspiration of changing the lives of another 1,000 young people across Scotland in the next two years. We sincerely thank all our industry leaders, the whisky collectors and the craftspeople that pour their passion into every cask and bottle, for their support and generosity, as well the Youth Action Fund's charity partners who work tirelessly every day to support the young people in Scotland."
Jonathan Driver from The Distillers One of One, added: "We're overwhelmed to see that our second One of One Auction has been another resounding success, galvanizing whisky brands old and new, all in the name of philanthropy. To have raised such an exceptional sum for Scotland's disadvantaged youth this year is very special to us, and we cannot wait to hear about further inspiring stories on how these funds will be used in practice.
We're also delighted to announce that the next One of One Auction will be back in 2025, continuing the momentum of creativity, philanthropy and celebration that we've built. We look forward to welcoming back our partners, including auctioneers Sotheby's, and we're proud to make a long-term commitment to funding and securing a future for young people in Scotland that benefit from the funds raised. The Distillers' Charity would like to thank all who donated to, and bid on, the One of One Auction 2023, and we look forward to seeing them again in 2025."
Sotheby's Global Head of Whisky, Jonny Fowle, said: "In 2021, the inaugural Distillers One of One sale broke the mould for whisky charity auctions not just through the creativity of the donations but also through the value generated for The Distillers' Charity. For 2023, the participating distilleries really went above and beyond to stretch the bounds of their generosity and creativity. This galvanising feeling of partnership, community and conviviality built a resulting auction that was greater than the sum of its parts and the results have once again exceeded anything that we thought was possible before this project began. We would like to thank all of the donors who have worked so generously to make this auction a success and look forward to its development into 2025."
Across the sale, nineteen auction records were achieved: for Brora (Lot 5), Glenglassaugh (Lot 6), Glenmorangie (Lot 7), Macduff (Lot 10), Old Pulteney (Lot 11), The Glenturret (Lot 13), Bladnoch (Lot 15), Holyrood (Lot 18), Littlemill (Lot 20), Bowmore (Lot 22), Kilchoman (Lot 25), That Boutique-y Whisky Company (Lot 26), Glen Scotia (Lot 27), House of Hazelwood (Lot 29), Glen Moray (Lot 30), The Glen Grant (Lot 32), The Scotch Malt Whisky Society (Lot 33), Gordon & MacPhail (Lot 34), and The Last Drop (Lot 38).
Leading the auction was the spectacular Bowmore STAC 55 Years Old, the oldest whisky ever released by the distillery, which sold for £562,500 / $679,331 (est. £300,000-500,000). A spirited extended bidding battle broke out as collectors enthusiastically offered amounts far in advance of the previous bid, to secure the highly prized single malt housed in a ground-breaking magnum-sized, 1.5 litre, hand-blown glass.
A new auction record was achieved when Brora Iris 50 Year Old 1972, the oldest Brora single malt that has ever been bottled, presented in a 1.5 litre decanter and suspended within an imposing one-of-a-kind handcrafted stone sculpture, sold for £400,000 / $483,080 (est. £200,000-400,000). In the run-up to the sale, online bidding had already broken Brora's previous auction record; on the day, multiple bids resulted in an outcome establishing the highest price for a bottle of whisky released from the Brora distillery.
From the Glen Grant Distillery, The Visionary – an exceptional one-of-a-kind creation presented in a singular hand blown battuto-cut magnum decanter and one of the oldest whiskies to be released by the distillery – more than doubled its high estimate, selling for £212,500 / $256,636 (est. £50,000-90,000), establishing a record for a bottle of The Glen Grant at auction.
An auction record was achieved for The Glenturret when The Glenturret Enduring Spirit - four Lalique crystal decanters, each containing liquid to celebrate a century of The Glenturret's existence, contained in a handmade, Method Studio trunk - tripled its estimate, to bring £125,000 / $150,962 (est. £40,000-80,000).
The Gordon & MacPhail Recollection Showcase, featuring five uniquely engraved Glencairn decanters each containing an extremely rare one-off 70cl single malt from a distillery that has been lost or silent for decades, brought £93,750 / $113,222 (est. £80,000-160,000).
Old Pulteney Bow Wave 45 Year Old, the oldest expression released to date from Old Pulteney Distillery, more than doubled its pre-sale high estimate, selling for £68,750 / $83,029 (est. £20,000-30,000).
The Only Drop, from The Scotch Malt Whisky Society, saw a flurry of bids, resulting in a final sale price of £18,750 / $22,644 (est. £5,000-10,000). The one-of-a-kind bottle housing a 1989 spirit from a Speyside Distillery is distinguished by its unique bottle design, featuring a sculptural representation of a ripple formation on water, with a droplet portal allowing a glimpse of the precious whisky within.
Other significant results from the day included:
"Christmas at Hazelwood", presented for sale by House of Hazelwood – a miniature house, inspired by the Gordon family's ancestral home and created by Linley in the form of an Advent Calendar. This unique lot containing a 50ml measure of every House of Hazelwood whisky released to date behind 24 numbered advent doors alongside a full bottle of a unique 51 Year Old sherry cask matured blended Scotch Whisky to be opened and shared on Christmas Day sold for £47,500 / $57,366, more than three times its pre-sale low estimate (est. £14,000-24,000), establishing an auction record for House of Hazelwood.
Showcasing a contrasting duo of rare Scotch whiskies distilled in 1979 and bottled in 2023, AGA, by KANDOBLANC, ignited competitive bidding, selling for £45,000 / $54,346 - an auction debut for the newly launched whisky brand.
An extraordinary 49 Year Old Glen Scotia, taken from the distillery's oldest remaining cask reserves, encased in a bespoke wooden case, brought £33,750 / $40,760 (est. £10,000-15,000.)
Presenting the winning bidder with an opportunity to create their own unique aged, blended Scotch Whisky, The Last Drop Blending Experience sold for a staggering £60,000 / $72,462 (est. £14,000-24,000).
The Distillers One of One is also immensely grateful to the donors, to everyone who attended and bid, and to the following sponsors: Partner Programme Sponsor - Beamish International; Programme Sponsors - Glencairn Crystal, McLaren Packaging and Simpsons Malt; and Auction Sponsors - Bentley Motors Edinburgh, Forsyths.
A full list of the lots and auction results can be viewed here.
More Whisky News