Redbreast Irish Whiskey Brings Iconic Robin To Life And Announces Partnership With Birdlife International
Published Date: 2nd October 2020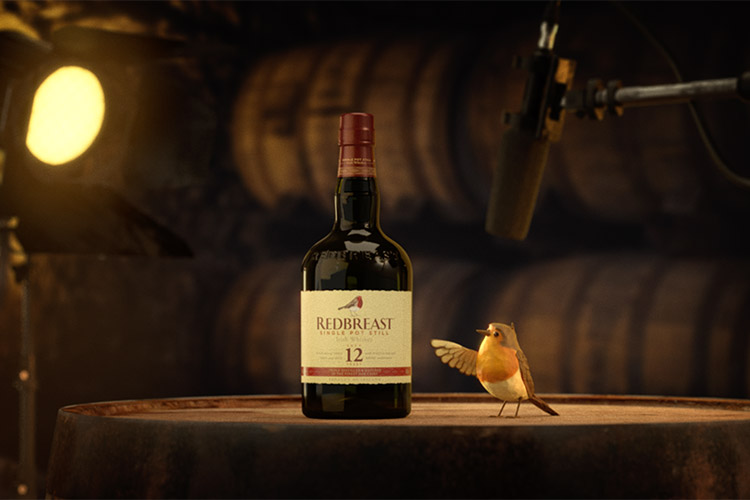 Redbreast Irish Whiskey has unveiled Robin Redbreast, an engaging evolution of its iconic character to inspire a new generation of whiskey lovers. Elevating Robin Redbreast from the icon of the brand to the voice of the brand, Robin is a plucky yet charming character, with a dry wit and Irish sense of humour that reflects Ireland and the home of Redbreast in Midleton, Co Cork.
Evoking the quality and craftsmanship of Redbreast Irish Whiskey, Robin Redbreast's new look is carved from wood, paying homage to the wood casks that help to make Redbreast Irish Whiskey so uniquely special.
Redbreast is also launching a global partnership with leading bird conservation charity, BirdLife International, to support the organisation on its mission to keep the common bird common. Redbreast Irish Whiskey will raise funds, help to conserve and restore bird habitats and support BirdLife International in its quest to monitor bird populations so that deeper environmental problems (and successes) can be rapidly identified.
"With the Robin being one of the world's most recognisable birds, Redbreast Irish Whiskey is delighted to take the opportunity of the launch of its new character to announce its commitment to supporting BirdLife International and the welfare of not only Robins but all birds." explains Laura Hanratty, Head of Prestige and Speciality Brands at Irish Distillers.
Commenting on the new partnership, Patricia Zurita, CEO, BirdLife International adds "We welcome this partnership with the iconic Redbreast Irish Whiskey which promises support for our conservation work in Ireland and globally. With the new Robin Redbreast ambassador launched, we're looking forward to working with the Redbreast team as they join us in our mission to keep common birds, and not so common birds, common."
The ongoing partnership between Redbreast and BirdLife International will aim to educate consumers on how to protect the common birds, and will see the first limited-edition Value-Added Pack launching later next month.
Redbreast is the world's bestselling single pot still Irish whiskey, a style of whiskey which is historically unique to Ireland. First referenced in 1912, "Redbreast" was a nickname given to the whiskey by the chairman of Dublin whiskey bonders Gilbeys, who was an avid birdwatcher. The robin symbol has been synonymous with the brand's growing reputation ever since.
Today Redbreast is considered the definitive expression of single pot still Irish whiskey and features a range of expressions from 12-Year-Old through to 15, 21 and now 27-Year-Old – as well as Redbreast Lustau Edition and the brand's eagerly anticipated annual Dream Cask bottling of the rarest casks in the Redbreast inventory. The brand has built a global reputation for excellence by marrying a combination of the world's finest aged pot still whiskeys, created at the world-famous Midleton Distillery in Cork, and finishing them in a combination of the very best bourbon, sherry and port casks.
With ambitious growth plans for Redbreast, which was also recently named in IMPACT's top five-selling Irish whiskeys in the US, the introduction of Robin Redbreast has been designed to drive discovery with more whiskey fans, broadening its audience by creating a distinctive and memorable character for the beloved range.
Robin Redbreast will feature in a series of digital creatives, flying in to share brand news and celebrate occasions with whiskey lovers across the globe. Shot on location at Midleton Distillery, fans can also expect cameos from Irish Distillers' expert whiskey blenders Billy Leighton and Dave McCabe.
'We know that the Redbreast audience is driven by curiosity and that they discover new brands that they can engage with online. As we seek to widen the audience for the brand, it is a natural next step to introduce a modern-day digital evolution of our revered Robin that encapsulates the essence of the brand and the people who make it," explains Laura Hanratty.
Robin Redbreast has been created by The Public House with CGI development produced by Jelly London and will be rolling out across global marketing channels from 1 October.
More Whisky News