The Gateway To Islay: Port Askaig Unveils A Completely New Whisky Range
Published Date: 28th September 2023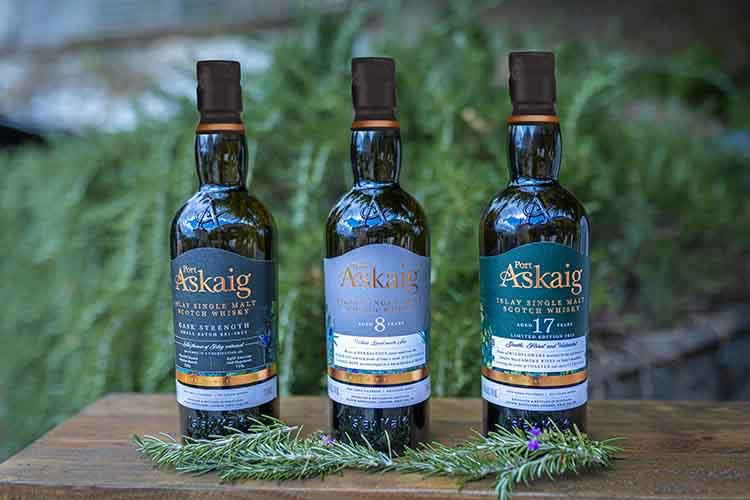 Port Askaig, renowned for its exceptional Islay single malt whiskies, is presenting a new core range of three expressions, capturing the authentic essence of Islay whisky.
From three newly crafted recipes to a striking new bottle design, the range aims to embody the island's rich heritage and distinctive flavours. The brand refresh is accompanied by a new positioning and tagline: The Gateway to Islay, highlighting owner Elixir Distillers' ambition to grow the premium brand in the UK and internationally.
At the heart of the relaunch is the revitalised Port Askaig 8 Year Old, boasting a completely new recipe. This herbaceous whisky features notes of seaweed salt, pinewood, and a blanket of warming smoke. The first three years of maturation take place in American Oak barrels, followed by an extended ageing period of over five years in a carefully curated selection of Bourbon Barrels, Toasted American Oak Barrels, PX Sherry Butts, and Refill Hogsheads. This cask recipe will stay the same with each batch, upholding the distinctive taste that serves as a gateway to the world of Islay whisky.
Port Askaig is also introducing two new limited expressions, exemplifying Elixir Distillers' commitment to innovation for the Port Askaig brand. Port Askaig Cask Strength (#01-2023, 59.4% ABV) promises an ever-evolving experience with each batch, altering the cask recipe for each production. Limited to no more than 60 casks per batch, #01-2023 is aged in First Fill Toasted Bourbon Barrels & Refill American Oak Hogsheads. This inaugural expression is characterised by an interplay of vanilla sweetness, zesty citrus, and Islay's iconic peat smoke - the higher ABV allowing for a more concentrated intensity of flavour. Each individually numbered batch will offer a different Islay tasting experience. The final expression in the new core range is Port Askaig 17 Year Old. This bottling is the first of what will become a limited-edition annual release, with approximately 9,000 bottles produced each year. This single malt has been matured for a minimum of 17 years in traditional American Oak casks, chosen for their quality and unique floral character and bottled at 51.8% to create a unique flavour experience – with notes of wildflower meadows, fresh grass, and vibrant citrus on the nose, with a rising crescendo of bonfire smoke. On the palate there is dark chocolate, salted caramel and vanilla, wrapped with a briny, smouldering ash finish.
"The relaunch of Port Askaig's core range marks a profound moment in our pursuit to capture the essence of Islay," says Oliver Chilton, Master Blender at Elixir Distillers. "With each expression, we invite you to immerse yourself in the island's unique character - from the rugged landscapes to the salty sea air and iconic peat smoke that Islay is renowned for. The refreshed Port Askaig 8 Year Old is a steadfast companion on this journey, a true gateway to Islay whisky; and with Port Askaig Cask Strength and Port Askaig 17 Year Old, we unveil chapters of Islay's story that continue to unfold with every sip. Each expression is a testament to our dedication to authenticity and quality, and we are immensely proud to present this relaunch."
Every expression in the Port Askaig core range is non-chill filtered and free from added colouring, staying true to the brand's dedication to providing an unadulterated Islay whisky experience.
Port Askaig 8 Year Old (RRP £49.95), Port Askaig Cask Strength (RRP £64.95) and Port Askaig 17 Year Old (RRP £125) will be available globally from October and in the UK via distributor Speciality Brands.
Discover the new range at this year's Whisky Show – stand 53 on the ground floor.
More Whisky News