Johnnie Walker and Colin Montgomerie Launch Johnnie Walker Blue Label® Ryder Cup Limited Edition - 9th June, 2014
Colin Montgomerie joins forces with luxury whisky brand to celebrate return of The Ryder Cup to Scotland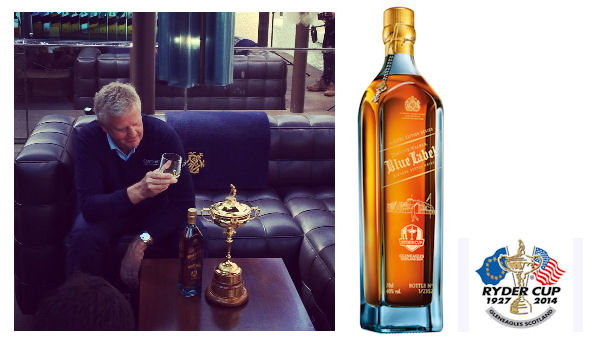 Scotland, 9th June: The Ryder Cup legend Colin Montgomerie toasted the perfect blend of whisky and golf at Gleneagles today as he unveiled a rare Johnnie Walker Blue Label Ryder Cup Limited Edition Scotch Whisky.
Montgomerie, one of Scotland's greatest players and a winning Ryder Cup Captain, joined forces with Johnnie Walker, Official Partner of The 2014 Ryder Cup, to launch the special edition of the luxury blend. A run of just 2,350 individually numbered bottles have been lovingly crafted to celebrate the return of The Ryder Cup to the heartland of both golf and whisky.
Revealing the limited edition bottle at Gleneagles, where The 2014 Ryder Cup will be staged in September, Montgomerie said: "Whisky and golf are two of Scotland's greatest gifts to the world and what better way to celebrate them than with such a beautiful and unique Johnnie Walker Blue Label Ryder Cup Limited Edition.
"This is a truly rare and unique Scotch whisky and everyone who loves whisky and golf will want to have a bottle of this Johnnie Walker limited edition in their drinks cabinet. I know that I certainly do."
Nick Temperley, Head of GB Diageo Reserve said: "There are no greater global icons of whisky and golf than Johnnie Walker and The Ryder Cup and we are delighted to be able to celebrate both in the year that The Ryder Cup returns to Scotland.
Colin Montgomerie Ryder Cup legend
"Colin Montgomerie is a true Ryder Cup legend and it is fitting to have one of Scotland's greatest golfers and sporting ambassadors launch this rare and iconic limited edition bottling of a game-changing whisky crafted for progressive people who share the pioneering spirit of Johnnie Walker and The Ryder Cup."
The limited edition of Johnnie Walker Blue Label celebrates the return of The Ryder Cup to Scotland after 41 years. Its release gives fans of both whisky and golf a rare opportunity to share in the unique connection between these two pioneering Scottish exports.
With the launch of the limited edition Montgomerie reflected on his success as Captain of the European team in Wales in 2010: "That was a real game changer for me. An amazing experience" he said. "Being able to do more than just play but also mentor a team towards victory was definitely one of the highlights of my career".
"It is terrific to see The Ryder Cup coming back to Scotland and the PGA Centenary Course at Gleneagles is a wonderful stage on which to play the world's greatest team golf event."
Montgomerie's talents in mentorship and abilities to lead others in to once-in-a-lifetime moments intrinsically link to the core values of the Johnnie Walker brand, which seeks to provide premium, rare and game-changing moments to its consumers.
In 1921 Gleneagles played a role in the genesis of The Ryder Cup by hosting the first of two unofficial matches between professionals from Gt. Britain and the United States. The second of these matches was played five years later at Wentworth Club – and in the gallery was an English entrepreneur named Samuel Ryder. Enthralled by the match, he donated a small but striking gold cup for subsequent competitions, the first of which was played officially as The Ryder Cup in 1927.
Each bottle of the Johnnie Walker Blue Label "Ryder Cup Limited Edition" is individually numbered. The distinctive design of both the packaging and the bottle depicts the unforgettable, classic view of the iconic Gleneagles Hotel.
Johnnie Walker Blue Label is a game-changing, luxury Scotch Whisky crafted in Scotland using some of the rarest whiskies on earth. Johnnie Walker has the largest reserves of Scotch Whisky in the world, but only 1 in 10,000 casks contain whiskies of sufficient character to produce the remarkably smooth signature taste of Johnnie Walker Blue Label.
The Johnnie Walker Blue Label "Ryder Cup Limited Edition
The Johnnie Walker Blue Label "Ryder Cup Limited Edition" is available now from Whisky Exchange (www.whiskyexchange.com) and specialist whisky outlets at a recommended retail price of £225.
<< Back to all the latest whisky news brought to you by Planet Whiskies
Distillery of the Month: November 2023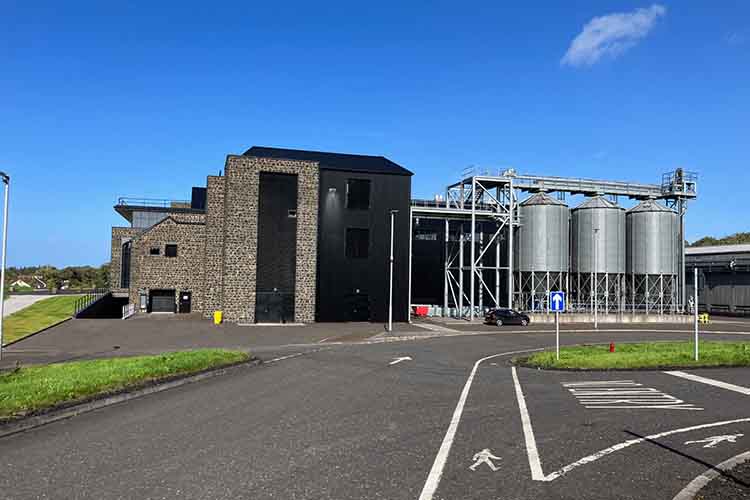 Planet Whiskies visited the new Bushmills Distillery in Northern Ireland on the 25th and 26th of September. Read our review of the experience of Bushmills and Northern Ireland at Planet Whiskies tour of Bushmills and Northern Ireland
You can also read the whole section about Bushmills Distillery at Bushmills Distillery Information on Planet Whiskies... So Bushmills is Planet Whiskies Distillery of the Month title for November 2023
Get Newsletter
Subscribe to our newsletter to get latest news, popular news and exclusive updates.