Irish Distillers Introduces New Flavours And New Look For Paddy Irish Whiskey - 1st October, 2013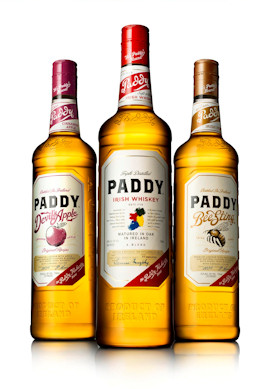 Irish Distillers Pernod Ricard, the world's leading Irish whiskey producer, has given its iconic PADDY Irish Whiskey a packaging makeover and announced the release of two new PADDY flavour variants aimed at bringing sociable millennial consumers to the Irish whiskey category.
An eye-catching new bottle for the core PADDY expression – Irish Distillers' special three-whiskey blend of pot still whiskey, grain whiskey and malt whiskey – features new tactile embossing features to the sides of the bottle while the famous multi-coloured map of Ireland on the label is retained. Also new is a heritage endorsement flashing The Paddy Flaherty Brand in homage to the man from whom the brand takes its very name, a 'Soft & Mellow' liquid taste profile on the neck, while a new signature of approval from original founder James Murphy demonstrates the rich history and crafted credentials of the brand.
The new PADDY flavour variants have been created with a lighter flavour profile which, coupled with a distinctive bottle design and impactful marketing campaign, aim to challenge many of the traditional perceptions of whiskey.
Available initially in the US and France from October 2013, each market will receive flavoured PADDY variants tailored to their differing consumers. The US will receive packaging with a bright modern design, bearing the names 'Bee Sting' and 'Devil's Apple', while France will receive a more classic design focusing on the liquid as a spirit drink, bearing the names 'Irish Honey' and 'Spiced Apple'.
An integrated campaign, 'Sleep When You're 30', will be activated initially in the USA through a new website - www.paddywhiskey.com - plus a social media campaign, drinks strategy and advertising to reinforce the brand's image of "Irish craic", the Irish word for enjoyment.
Brendan Buckley, Global Innovation and Category Development Director for Irish Distillers Pernod Ricard, says: "It's a very exciting time for Irish Distillers, as PADDY is our first entry into the flavoured whiskey segment. Of course, Ireland has a long tradition of adding flavours to our whiskeys with drinks like the Hot Toddy and Irish Coffee, so PADDY Flavours is rather a natural progression. We are equally excited about introducing more consumers throughout the world to the flavour and quality of Irish whiskey and we are confident that the new look PADDY is primed for success in its launch markets".
"With flavoured whiskey standing at more than three million cases annually and growing strongly, there is a real opportunity for us to offer something a little different that will appeal to people who already enjoy flavoured whiskey, and also recruit new consumers to the category. The 'Sleep When You're 30' marketing platform will work to engage sociable twenty-somethings and encourage them to begin their Irish whiskey journey."
<< Back to all the latest whisky news brought to you by Planet Whiskies