Glenfiddich Announces Uk Winner Of World's Most Experimental Bartender: 4th August, 2017
London bartenders head to global final with whisky and fragrance collaboration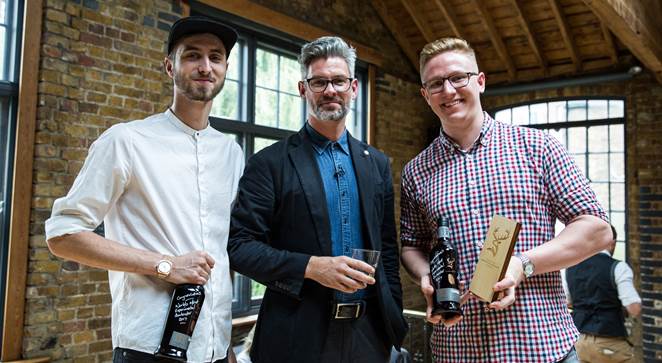 4th August, 2017 London: Glenfiddich has crowned its winner at the UK final of the World's Most Experimental Bartender competition in London. Collaborators Charles Roche and William Hetzel, both from Scout cocktail bar in London, captured the judges' imagination with their whisky-aroma inspired concept.
William, who's side passion project is perfumery, worked with Charles to create four bespoke scents which were blended to represent the aroma of Glenfiddich 21. The idea would see consumers experience the fragrances before moving on to tasting the whisky, opening their senses through familiar scents which remove the sometimes-inhibiting factors to choosing and enjoying whisky.
The global search aims to recognise and reward individuals who collaborate with disciplines outside of the traditional drinks world to create more surprising and inventive drinking experiences, inspired by Glenfiddich.
A panel of judges, including Glenfiddich UK Brand Ambassador, Mark Thomson; Glenfiddich Senior Brand Manager, Gwilym Cooke; Drink Up London founder, Hannah Sharman-Cox; and WIRED Gear & Products Editor, Jeremy White each looked at the entries through their varied fields of expertise and interest.
They saw a mix of experimental presentations, including a storytelling collaboration from Callum Rixon of The Hideout in Bath, a mini-copper still from Glen Howatson of Bar One in Inverness, and a bespoke tailoring entry from returning finalist Shae Campbell, but it was ultimately Charles and William's creative collaboration that saw them snag the UK title.
Winner Charles commented, "I am delighted to win the UK round of the Glenfiddich World's most Experimental Bartender competition, especially due to the fact the other entrants were so creative and inspiring. Glenfiddich has always held a special place in my heart, and hopefully this is the beginning of a long-term relationship between myself and the brand. It would mean the world to me to bring back the gold in November to make Scout, and London proud." 
Glenfiddich UK Brand Ambassador, Mark Thomson, commented, "Charles and William's entry really got to grips with combatting the nerves some people can experience when it comes to trying whisky. By reimagining the process of tasting, selecting and enjoying whisky through scent, they have opened up the potential to reach a whole new group of would-be whisky lovers. The commercial opportunities are endless and it was ultimately this that sealed the deal for the judges."
Charles and William will now go on to compete against other winners from countries around the globe on a trip to the Glenfiddich Experimental Bartender Academy in Scotland, where they will have the priceless opportunity of bringing their idea to life, supported by Glenfiddich.
The academy is an intense and immersive three-day experience where the co-creators will learn how to make whisky from scratch. They will have the exclusive opportunity to absorb knowledge from Glenfiddich's distillery experts; from the mash man to the cooper, and the still man to the malt master; including an opportunity to meet with malt master, Brian Kinsman.
<< View more from the Glenfiddich Range
<< Read more about the Glenfiddich Distillery and more latest news
<< Back to all the latest new brought to you by Planet Whiskies