Whisky Pioneer, The English Distillery Introduces First Sherry Cask Single Malt To Core Range
Published Date: 3rd October 2023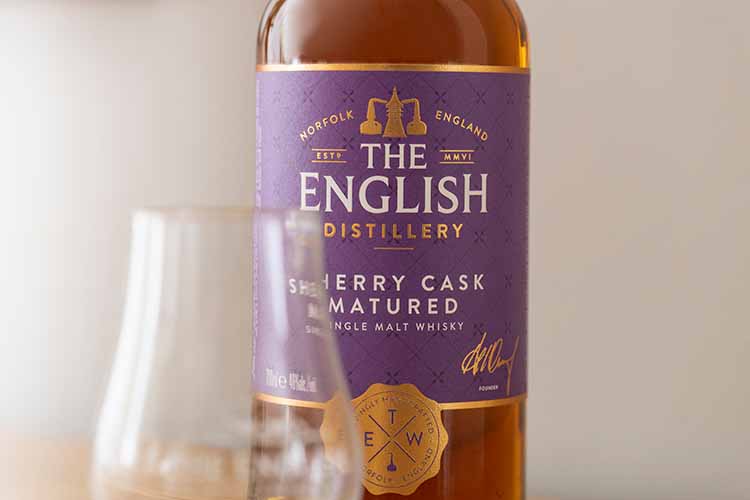 Whisky pioneer The English Distillery is introducing the first sherry matured single malt release to its award-winning core range[1], as England's oldest registered whisky distillery reinforces its mission to create the country's finest offering of single malt whiskies, and share them with whisky lovers around the world.
Bottled by hand at its Norfolk distillery, The English Sherry Cask is an unpeated single malt whisky, which has been matured from start to finish in the finest PX sherry casks to create a stunning expression that has been well worth the wait.
Aromas of rich dark fruits from the sherry-filled casks combine in a nose of raw honey and vanilla, leading to a burst of sweet toffee, cherries and digestives on the palate. The result is a wonderfully balanced and rich whisky that is not outshone by the wood.
Bottled at 46% abv, non chill filtered and natural in colour, this no age statement whisky will join The English Original and The English Smokey to enhance the distillery's core range.
Founded in 2006 by farmer James Nelstrop to fulfil a lifelong dream, the distillery – guided by the experience of legendary Master Distiller Ian Henderson – began to lay down whiskies in its dunnage warehouses, with the sole aim to make world class single malt whisky. The whisky is made using barley grown locally and on the Nelstrop family farms. The entire distillation process of milling, mashing, distilling with a pair of traditional and beautiful copper stills, maturing in the finest oak casks and hand bottling - all take place at the distillery.
"After a mere 17 years of distilling, we finally have just enough stock to add a Sherry cask matured single malt whisky to our core range," explains Chairman Andrew Nelstrop, James' son, part of a 20 strong team at the picturesque distillery in the Norfolk district of Breckland. "This is a momentous step for the distillery and a big milestone as we continue to demonstrate the skill of our distillers and the depth of our maturing stock."
Available to order now (RRP: £60, 700ml bottle), the new addition will sit alongside The English Original and Smokey (RRP: £47.50 each).
[1] The English Distillery has won Gold Awards for its core whiskies including, most recently, in the 2022 editions of the prestigious Bartenders' Brand Awards, New Wizards of Whisky Awards, and Jim Murray's world-renowned annual Whisky Bible.
More Whisky News