Lutwyche launches first luxury men's shoe in partnership with The Dalmore - 12th October, 2011
Published Date: 12th October 2011
This newsletter is directly from The Dalmore and none of the content has been changed. There is also a image gallery where you can download hi-res images. This newsletter is all shoe maker Lutwyche who is launching a luxury shoe in partnership with The Dalmore.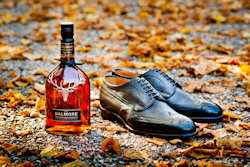 Lutwyche, Britain's leading men's tailor, has taken its first step into men's luxury shoe market with the production of its first shoe bearing the Lutwyche brand.

The Dalmore brogue is the product of an innovative collaboration with luxury single malt The Dalmore. Reflecting the Dalmore's affiliation with the stag, whose head adorns every bottle of single malt whisky, the benchmade shoe is made from sustainably sourced deerskin and branded with the regal Dalmore stag's head crest. Upon purchase, each shoe will be personalised with the customer's name and each customer will also receive a bottle of The Dalmore's award-winning King Alexander III single malt whisky.

For Lutwyche, famous for its tailor made suits, the collaboration with The Dalmore marks the brand's introduction to the luxury men's shoe market, having previously produced and marketed shoes bearing the Lodger brand.

The new Lutwyche shoes will continue to carry the same qualities of custom-fit and near bespoke comfort and quality, that differentiated the Lodger from the rest of the benchmade market. Central to the production process is the use of the latest cutting edge technology that sits alongside traditional craftmanship in the creation of each and every shoe. Exceptionally soft, supple and luxurious, deerskin leather is unparalleled in its ability to mould to the foot with repeated wear.

The Dalmore Lutwyche will only be available to buy from Thursday October 27th for one month only through Lutwyche's Clifford Street store. The shoes cost £550, including a bottle of King Alexander III single malt whisky worth RRP£150.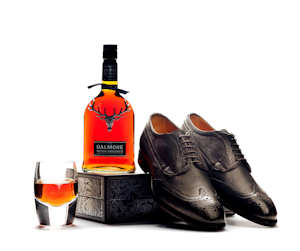 The Dalmore Master Distiller, Richard Paterson

"The Dalmore, like Lutwyche, prides itself on qualities of artisanship, exclusivity and excellence, so we're delighted to be partnering with a like-minded brand on such a creative project. The skills that have been passed down through generations to create each drop of our whisky are matched by the craftmanship that goes into the creation of this shoe. Hopefully, this is the beginning of a long and fruitful relationship between the two brands."

Lutwyche's founder, Tony Lutwyche

"We are extremely excited to be launching our first Lutwyche shoe in partnership with The Dalmore. Both brands pride themselves on their commitment to excellence, artisan craftsmanship and their rich heritage. We have created a classic shoe with timeless appeal and courtesy of Dalmore added a little extra something for our customers to mark the occasion."
<< View Single Malts from The Dalmore range
<< Read more about The Dalmore Distillery
<< Back to all the latest new brought to you by Planet Whiskies