The Bowmore Distillery Tweed Savile Row Experience
Published Date: 23rd November 2011
If you would like to view all the malts from Bowmore Distillery please click here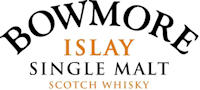 THE BOWMORE TWEED SAVILE ROW EXPERIENCE
The ultimate luxury Christmas gift for the Single Malt whisky-drinking gentleman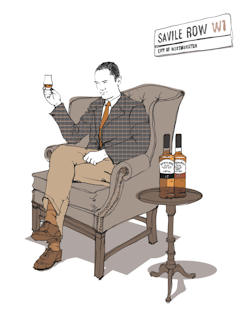 Bowmore, the first Islay Single Malt whisky is collaborating with esteemed Savile Row tailor, Malcolm Plews to create the ultimate premium Christmas gift; a bespoke tailoring session where gents will be fitted with a made-to-measure Bowmore Tweed jacket followed by an in-depth one to one whisky tasting with a Bowmore expert on the range of perfectly balanced, warm and smoky Bowmore whiskies.
The package, which retails at £3,000, also includes first class travel to London from anywhere in the UK, a night's stay for two at the Malmaison Clerkenwell, and lunch for two at the undeniably chic Sartoria restaurant, Savile Row. A bottle of Bowmore 15YO and whisky glasses complete the package and are issued to the recipient with details of the package just in time for Christmas Day.
Like Bowmore, Malcolm Plews is renowned for creating products of the highest quality and craftsmanship. With over 40 years experience, Malcolm provides the ultimate bespoke tailoring experience from the home of British tailoring. Positioned in the heart of Mayfair, central London, Savile Row tailors have long epitomised the well-dressed man. Malcolm fits and cut all his suits on the premises. Each jacket will take two fitting sessions to complete.
The Bowmore Tweed echoes the brand's heritage and provenance. !Made from the finest British wool, the Tweed has been produced in conjunction with Gordon and Sheila Covell, owners of the Islay Woollen Mill, whose designs have featured in Hollywood blockbuster Braveheart. ! The colour palette is routed in Bowmore's core, Islay, with the blue inspired by the wild waves of Loch Indaal that surround Bowmore distillery and its legendary No.1 vaults, where the remarkable whiskies spend their long lives. The grey mirrors Islay's slate and heather on the island and the burnt orange signifies the giant copper still of the Bowmore distillery as well as the amber colour of the perfectly balanced warm and smoky spirit. ! In
addition to bespoke Tweed jackets, Bowmore Tweed is also available in rugs and scarves The Bowmore Tweed Savile Row Experience is available from www.singlemaltwhiskyshop.com at RRP £3,000. For more information visit www.bowmore.com
<< View the range of Bowmore Single Malt Whiskies
<< Back to all the latest whisky news brought to you by Planet Whiskies