Benromach Distillery Launches Limited-Edition Whisky Double Matured In First-Fill Bourbon And Bordeaux Wine Casks
Published Date: 6th November 2023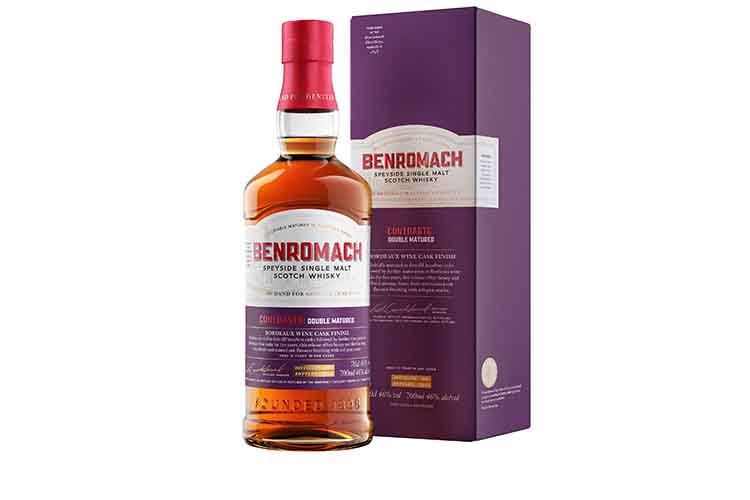 Benromach Distillery in Speyside has launched the latest addition to its Contrasts range – a 12-year-old double-matured limited release which has been matured in both first-fill bourbon and Bordeaux wine casks to create an imaginative twist on the signature Benromach style.
This whisky started out in first-fill bourbon barrels before a final five years maturation in Bordeaux red wine casks, creating delicate honey and floral notes, with zesty tangerine, dark forest fruits and toasted oak flavours on the palate. A medium-bodied finish is complemented by Benromach's signature soft peat smoke.
Keith Cruickshank, Distillery Manager at Benromach, said: "Creating the newest Benromach Contrasts release has been a very exciting project – allowing us to add another intriguing whisky to our range.
"Double maturing this whisky in both bourbon and Bordeaux wine casks has helped create an interesting depth of flavour, balancing both sweet and fruity notes with our signature soft smoke brought about by our lightly peated malt. It has also influenced the colour of the whisky itself, producing a much darker, richer dram.
"There's a very limited number of bottles available for purchase. We expect this whisky to be a popular dram so urge those looking to sample the whisky to be quick to secure their bottle."
With an ABV strength of 46%, this whisky is available for purchase via Independent Whisky Specialists at a recommended retail price of £59.99.
For more information on Benromach Distillery or Benromach Double Matured Bordeaux Wine Cask Finish, please visit: www.benromach.com
More Whisky News