Eden Mill Releases its 2023 Annual 'Art Of St Andrews' Expression
Published Date: 27th September 2023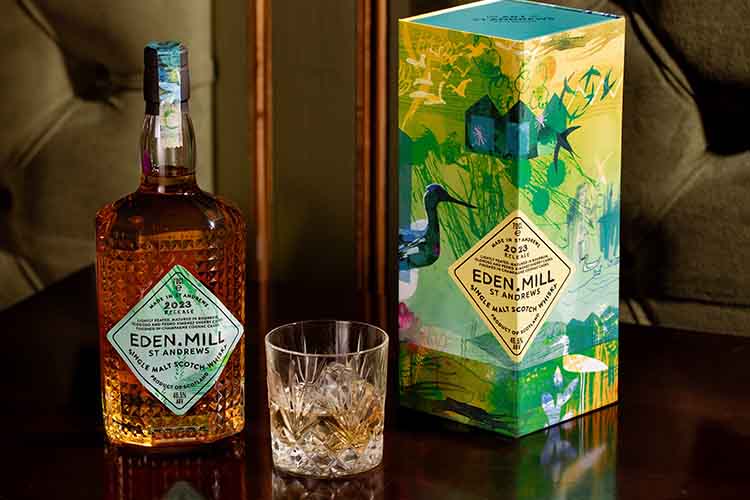 Independent distiller Eden Mill St Andrews has joined forces with renowned Scottish illustrator Jill Calder to create the bespoke packaging for the 2023 release of its annual 'Art of St Andrews' collection.

This exclusive and collectible limited edition single malt has been specially crafted by head distiller Scott Ferguson and is the latest in a series of annual expressions designed to celebrate the creativity of local artists.

The much-anticipated 2023 'Art of St Andrews' release is a unique, lightly peated single malt matured in a combination of Bourbon, Oloroso and Pedro Ximénez casks, finished in premium ex-Grande Champagne Cognac casks to add some sweeter notes, as well as to maximise depth of flavour and the body of the whisky. It is non-chill filtered, has natural colour and is bottled at 46.5% ABV.

While Eden Mill's single malt house style is normally unpeated, after meeting Jill and exploring St Andrews together - the home of Eden Mill -Scott felt this peated expression would perfectly complement how deeply Jill had been inspired by the local fauna and flora.

The resulting lightly peated expression has been made using Aberdeenshire peat which has a more floral and grassy profile than peats found in other parts of Scotland. By using the ex-Grande Champagne Cognac casks to finish the whisky, Scott added beautiful, sweet notes to the peat and likens its flavour profile to smoked shortbread.

"Jill's art is a powerful re-imagining of the beauty of the area and is the perfect pairing for this latest Art of St Andrews release," says Scott. "Her design replicates the beautiful plants and wildlife of the area, as well as the silhouette of our iconic distillery building, in a striking contemporary style. She was very much inspired by local nature which is reflected in the vibrancy of this vivid and very joyful piece of art.

"We are delighted to see this partnership come to life through this latest release."

Jill added: "I was absolutely thrilled to be asked to work in partnership with Eden Mill. To be invited to collaborate with a local brand with global reach - especially one whose distillery is situated so close to where I live - was a privilege. I loved spending time with Scott and revisiting some of my favourite places in St Andrews and Guardbridge for inspiration before recreating those expressions through my art."

The artwork for Eden Mill's 2023 Art of St Andrews expression has also been replicated on a giant Scottie Dog statue, one of 30 such statues in the Wild in Art trail designed to celebrate the culture, communities and businesses of north-east Fife and to raise money for Scottish cancer charity Maggie's. Eden Mill's Scottie Dog is situated in St Mary's Quad in the centre of the town and will remain there for the public to enjoy until mid-November

.

The 2023 release of Art of St Andrews (RRP £150, 70cl) is now available to order via the Eden Mill website at www.edenmill.com.

For more information, please visit the website www.edenmill.com.

More Whisky News
Distillery of the Month: November 2023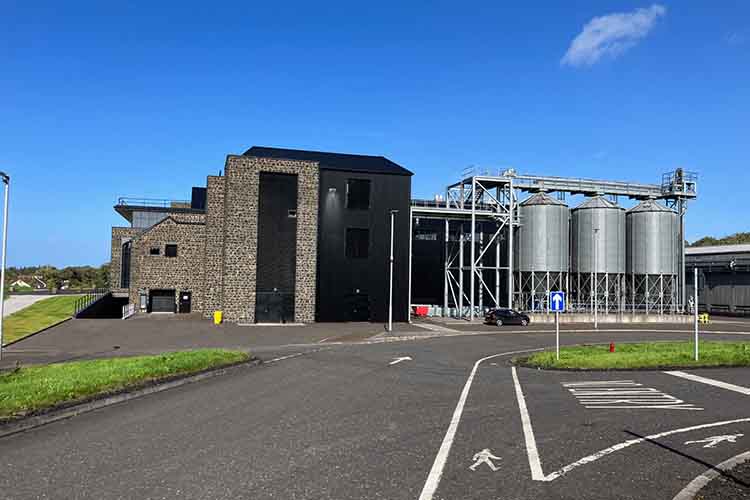 Planet Whiskies visited the new Bushmills Distillery in Northern Ireland on the 25th and 26th of September. Read our review of the experience of Bushmills and Northern Ireland at Planet Whiskies tour of Bushmills and Northern Ireland
You can also read the whole section about Bushmills Distillery at Bushmills Distillery Information on Planet Whiskies... So Bushmills is Planet Whiskies Distillery of the Month title for November 2023
Get Newsletter
Subscribe to our newsletter to get latest news, popular news and exclusive updates.