Wemyss Malts new season's Single Cask Releases - 17th October, 2012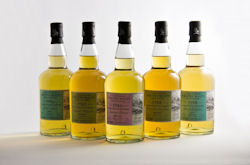 Edinburgh based boutique spirits company Wemyss Malts is delighted to announce the release of their latest single cask single malt whiskies.
Each cask is a celebration of the unique and contrasting appeals of the different Scotch whisky regions.
Wemyss whiskies are each identified by their natural taste and aroma and this latest range comprises:
"Sugared Almonds" – a 30 year old from Aultmore distillery, Speyside
"Autumn Berries" – a 26 year old from Blair Athol distillery, Highland
"White Chocolate Torte" – a 24 year old from Tormore distillery, Speyside
"Lemon Smoke" – a 16 year old from Caol Ila distillery, Islay
"Beach Bonfires" – a 14 year old from Laphroaig distillery, Islay
Each cask has been selected by the Wemyss tasting panel, under the watchful eye of industry aficionado Charlie Maclean. The recommended retail prices range from £75 to £105 and these casks will be available in selected retailers in the UK, EU and key Asian markets.
This launch is the second release for Wemyss single malt single casks using a new label design and premium gift boxes which were designed to accentuate the hand-crafted nature of these rare bottlings.
William Wemyss, Founder and Managing Director at Wemyss Malts, commented: "This new release of 5 single casks has a distinctly seasonal feel, from the rich and mellow "Autumn Berries", to the smoky delights of "Beach Bonfires". These latest additions to our range showcase some well known distilleries, as well bottlings from those which are harder to find."
Read more about Wemyss Malts and buy online
<< Back to the Wemyss Malts main page
<< Back to all the latest whisky news brought to you by Planet Whiskies