Latest Whisky News - Wemyss Malts Festive Season's Single Cask Releases - 14th October, 2013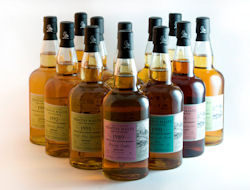 Edinburgh based boutique Spirits Company Wemyss Malts is delighted to announce the release of their largest parcel of single cask single malt Scotch whiskies to date. There are 12 casks released this month reflecting the strong demand from customers for high quality single cask Scotch whiskies.
Each cask is a celebration of the unique and contrasting appeals of the different Scotch whisky regions and the latest release covers five of the regions: from Islay, Speyside, Highlands, Lowlands and Campbeltown. Wemyss whiskies are each named after their natural taste and aroma and the full cask list of this release comprises:
List of Wemyss Malts Festive Single Cask Releases
"Toffee Glaze" - 1997 single cask from Clynelish, Highlands
"Brandy Casket" - 1989 single cask from Glen Garioch, Highlands
"A Peaty Punch!" - 1997 single cask from Bunnahabhain, Islay
"Seaweed on the Rocks" - 1991 single cask from Bunnahabhain, Islay
"Merchant's Mahogany Chest" - 1991 single cask from Glen Scotia, Campbeltown
"Tarte au Citron" - 1998 single cask from Auchentoshan, Lowlands
"Citrus Burst" - 1997 single cask from Linkwood, Speyside
"Liquorice Spiral" - 1992 single cask from Glentauchers, Speyside
"Coconut and Sandalwood" - 1992 single cask from Longmorn, Speyside
"Pastille Bouquet" - 1998 single cask from Mortlach, Speyside
"Sweet Mint Infusion" - "1991 single cask from Aultmore, Speyside
"Eastern Promise" - 1995 single cask from Glen Elgin, Speyside
Each cask has been selected and named by the Wemyss tasting panel, under the watchful eye of industry aficionado Charlie Maclean. There are only a few hundred bottles from each cask and the suggested retail prices range from £60 to £105. These bottlings will be available in selected retailers in the UK, EU and key Asian markets.
William Wemyss at Wemyss Malts comments
William Wemyss, Founder and Managing Director at Wemyss Malts, commented: "This is our largest release of single casks since the company started 8 years ago. We continue to work with some more established whisky markets like France, Germany, UK and Taiwan, but are also finding demand from new markets like China and Mexico.
Read more about Wemyss Malts on their website
Read more about Wemyss Malts and buy online
<< Back to the Wemyss Malts main page
<< Back to all the latest whisky news brought to you by Planet Whiskies