Spirit of Speyside Whisky Festival offers visitors a unique opportunity to get hands-on in whisky-making process
Published Date: 28th March 2019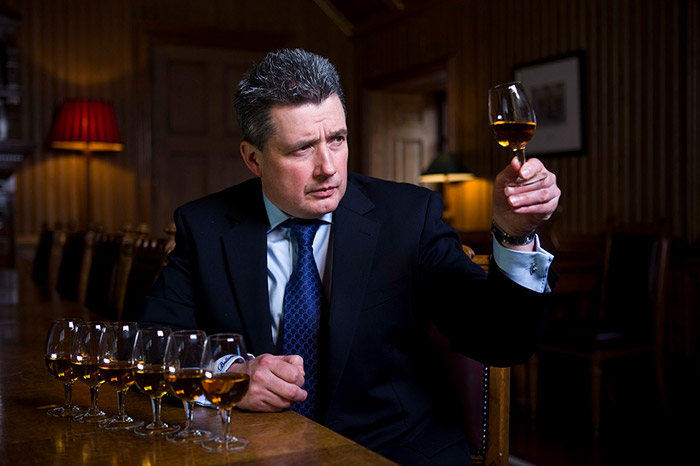 Sandy Hyslop, master blender at Chivas Brothers.
Visitors attending the world's leading Scotch whisky festival are being given a unique and exclusive opportunity to get hands-on with the distilling process. Speyside Distillery is offering just 10 people the chance to work alongside its distillers to produce spirit when it throws open its doors during the Spirit of Speyside Whisky Festival.
Only two people each day will be invited to join the team at the artisan distillery near Kingussie – home to SPEY from Speyside Distillery and Beinn Dubh single malts – to get an in-depth understanding of its traditional hand-crafted distillation processes.
It will be the first time that the boutique distillery, which has been running since 1990, has allowed anyone other than its team of expert distillers to take a hands-on a role in production.
Speyside Distillery managing director Patricia Dillon said that the team wanted to create a special and unique experience that visitors to the Festival, taking place from May 1 to 6, could enjoy.
The Festival will play host to over 600 events in six days, making it the biggest on record. Thousands of visitors will travel from as far afield as Australia and South America to the annual event, which is now in its 20th year.
Patricia said: "Speyside Distillery is not usually open to the public, but the Spirit of Speyside Whisky Festival is one of the very few times during the year when we open our doors and share our secrets with the outside world.
"What we've come to understand from hosting Festival visitors over the years is that, regardless of whether the person is a whisky connoisseur or tasting whisky for the first time, they are all absolutely fascinated by how we make it.
"As an independent artisan producer with a small site in such a beautiful location, we thought we would go one step further than just showing visitors the process and instead invite them to cover part of a shift with our distillers, who have a wealth of knowledge to share.
"Very few – if any - people who visit a distillery will ever be able to say that they helped to produce the spirit that is then matured in warehouses and later released for whisky lovers the world over to buy. This is a truly unique experience."
Tickets for the hands-on production experience are £140 and include a nosing and tasting of specially-selected award-winning SPEY single malts, including its limited-edition release for this year's Festival.
With such a limited number of tickets on offer, demand is expected to be high. However, there are other opportunities during the Festival for visitors to get closer to the production experience.
Sandy Hyslop, director of blending at Chivas Brothers, will be staging interactive and competitive sessions at Strathisla Distillery in Keith where participants can pit themselves against the elimination tests that any aspiring whisky blender must pass. There will be a prize for the best blender – a bottle of malt signed by the company's blending team - at the end of session, which will also offer the opportunity to nose and taste a wide range of interesting samples.
Dr Andrew Forrester, head of whisky science at Murray McDavid, will host an art of blending session at Parkmore Distillery. Using cask samples from the firm's Coleburn Distillery warehouse, apprentice blenders will have the chance to hone their skills and create their own personalised 30cl bottle of Scotch.
In one of the more unusual events, there will be an opportunity to go behind the scenes at Chivas Brothers' Technical Centre, located next to Glen Keith Distillery, where a constant watch is kept on production to ensure consistent quality.
During the tour, visitors will gain an understanding of the rigorous testing of raw materials and how spirit produced in Chivas Brothers' distilleries is then extensively evaluated in order to detect counterfeit products.
The Spirit of Speyside Whisky Festival takes place in locations across the region – the spiritual home of Scotland's whisky industry – from May 1 to 6. Over 600 events are on offer during the six days, including exclusive behind-the-scenes tours, whisky nosing and tasting with industry experts, food pairing as well as outdoor and heritage activities.
The programme is designed to appeal to people of all levels of interest in whisky, from the connoisseurs who have a deep-rooted passion for Scotland's national drink to those who have never tasted it before. While many events are ticketed, some are free – and it is possible to enjoy the excitement and atmosphere of the Festival without touching a drop.
Tickets for individual events are on sale now at www.spiritofspeyside.com with regular updates on social media: facebook.com/whiskyfestival and  Twitter and Instagram @spirit_speyside
<< Read more about Spirit of Speyside Whisky Festival 2019
<< View Scottish Single Malts on Planet Whiskies
<< Back to all the latest whisky news brought to you by Planet Whiskies