Kilchoman Club Releases Second Edition: Islay Single Malt
Published Date: 31st October 2013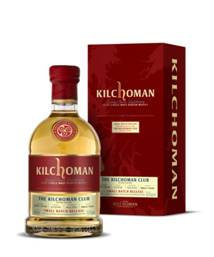 31 October 2013: Islay's independent farm distillery, Kilchoman, is to release an exclusive bottling to its club members.
Managing director Anthony Wills and distillery manager John MacLellan have chosen eight fresh bourbon barrels from an October 2008 filling which are currently being finished in Oloroso Butts. These will be bottled at cask strength and around 2,000 bottles will be made available for sale.
The Kilchoman fans who have signed up to the club – that provides special access to a limited edition bottling each year, special tastings and discounts – can purchase the second annual release for £75 on Monday 4 November from 12pm on the distiller's website.
Anthony Wills, managing director of Kilchoman, said: "Last year the release was very popular with our club members, as it sold out instantly and the amount of visitors brought down our website. In preparation we've expanded the website to make sure it can cope with the expected increase in traffic."
Kilchoman's portfolio now includes
Kilchoman's portfolio now includes Machir Bay, Loch Gorm, a new edition of 100% Islay and its most recent addition, the Vintage 2007 which is Kilchoman's oldest whisky released to date.
With an ambition to take whisky production back to its traditional roots, Anthony Wills built and founded Kilchoman Distillery in 2005 on a farm situated on the rugged west coast of Islay. The first distillery on the island for 124 years, Kilchoman is one of the smallest distilleries in Scotland and one of only a handful left that still practise the traditional floor malting method.
Kilchoman fans can sign up to the member's club at www.kilchomandistillery.com
The second annual club release will be made available from 12pm on Monday 4 November on the Kilchoman website www.kilchomandistillery.com priced at £75.00.
facebook.com/pages/Kilchoman-Distillery
<< Back to all the latest whisky news brought to you by Planet Whiskies