Japanese Whisky Startup Celebrates 1st Anniversary
TOKYO, JAPAN — 06/01/2016 — dekantā will kick off the 1st anniversary of their worldwide Japanese Whisky store with an online event June 1st — June 4th. The milestone will celebrate dekantā's rise to fame as the world's largest online store for high-end Japanese spirits.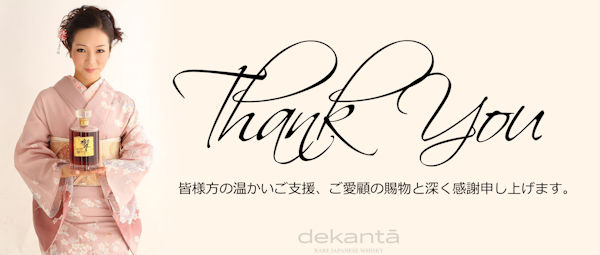 "The first year of dekantā has been such a wonderful roller coaster of a journey and l look forward to all the years to come." said Makiyo Masa, founder. "A special thanks to all our wonderful customers and everyone in the whisky making business in my home country of Japan for making such beautiful whisky that has caught the world's attention."
During its first year, dekantā established it's online store as the predominant source for Japanese Whisky, delivering a touch of Japanese Culture to customer doorsteps around the globe. Over the past 12 months, dekantā has shipped thousands of bottles to more than 2,000 customers across 50 countries. With bottles ranging in price from $30 to $30,000; dekantā offers a selection of more than 500 bottles appealing to both newcomers and avid collectors.
Japanese Whisky has experienced exponential worldwide growth, driven by awards from leading connoisseurs. Dekantā has helped customers experience the full gamut of Japanese Whisky by offering rare bottles that are not available through traditional worldwide distribution channels.
Dekantā's commitment to educating the world about Japanese spirits includes a website boasting the most extensive repository of information dedicated to Japanese whisky. Consumers that are not familiar with Japanese whisky can explore distillery history and tasting notes for each bottle. Bilingual concierge service is available 24 hours a day, providing expert recommendations in both English and Japanese.
As dekantā paves its way to the future, they are proud to celebrate a successful year that has pioneered online sales of Japanese Whisky direct to consumers. The company will continue its commitment to making Japanese whisky more accessible to customers worldwide with an ever expanding selection.
To celebrate dekantā will be featuring an award-winning whisky each day, giving away free anniversary gift packs, running contests on social media and offering special discounts. Information about the dekanta anniversary event is available on the dekanta website (https://dekanta.com/first-anniversary-sale/) or by contacting Leah-Alexander PR.
Connect with Dekanta:
Like Dekanta on Facebook: facebook.com/dekantawhisky
Follow Dekanta on Twitter: twitter.com/dekantawhisky
Visit http://www.dekanta.com

<< Read more about Japanese Whiskies and buy online
<< View japanese whiskies over £1000
<< Back to all the latest whisky news brought to you by Planet Whiskies