Irish Distillers Takes Top Honours In Jim Murray's Whisky Bible 2014
Published Date: 19th November 2013
Jameson Original revealed as 'Top Irish Blend' & Redbreast 12 Year Old Cask Strength is named 'Irish Whiskey of the Year' and 'Irish Pot Still of the Year'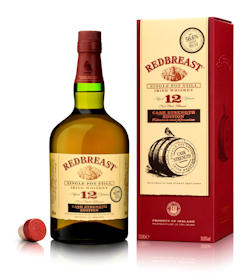 Jameson Original has been crowned 'Irish Blend of the Year' for the third year running in the recently-released 2014 edition of Jim Murray's Whisky Bible.
Recognising the consistent, crafted quality and smooth taste which has made the whiskey a worldwide favourite, Murray gave Jameson Original an impressive 95/100 points, remarking that he was "blown away as usual" and that "this very special whiskey remains in truly wondrous form".
In further good news for Irish Distillers, Redbreast 12 Year Old Cask Strength whiskey was once again named both 'Irish Whiskey of the Year' and 'Irish Pot Still of the Year', with a record score for an Irish whiskey of 97/100 points, reinforcing Irish Distillers' reputation for crafted excellence across all areas of the Irish Whiskey category. Irish Distillers' Midleton 1991 Single Cask No. 48750 was Jim Murray's next highest-scoring Irish whiskey, with 96.5 points.
Murray was also effusive in his praise for the new-strength Powers Gold Label 43.2%, which launched in the USA in September this year, complementing its powerful "big Irish pot still hardness" and stating that it's balance was "all to do with the extra pot still which here acts as backbone and muscle."
PADDY Centenary Edition, a pure pot still limited edition which was released in September to commemorate 100 years of the PADDY brand, was also scored highly, achieving 93 points.
Brian Nation, Irish Distiller's Master Distiller
Brian Nation, Irish Distiller's Master Distiller, commented: "We're over the moon that so many of our whiskeys have been recognized for their high quality by Jim Murray. Plaudits like this mean a lot to all of us at the Midleton Distillery; we take great pride in ensuring the consistency and high standards that whiskey fans have come to expect from our whiskeys, so to receive this recognition from such an eminent figure in the whiskey world as Jim Murray is a great honour."
The success in Jim Murray's Whisky Bible follows a momentous year for Irish Distillers, which saw the company unveil a host of new initiatives - including its new Garden Stillhouse and the first-ever Irish Whiskey Academy - as it aims to continue the Irish whiskey category's consistently strong growth.
Read more about Irish Distillers on their website
Jim Murray's Whisky Bible 2014 Award Wins for Irish Distillers:
Jameson – 95 points
Jameson Select Reserve Black Barrel – 91.5 points
Jameson Gold Reserve – 88 Points
Jameson Rarest Vintage Reserve 2007 – 96 points
Jameson Signature Reserve – 93 points
Jameson 18 Year Old Limited Reserve – 91 points
Midleton Single Pot Still Cask 1991 – 96.5 points
Midleton Single Pot Still Single Cask 1994 – 93 points
Midleton Barry Crockett Legacy – 94 points
Paddy Centenary Edition – 93 points
Powers John's Lane Release Aged 12 Years - 91 points
Powers Signature Release – 91 points
Redbreast 12 Year Old – 89 points
Redbreast 12 Year Old Cask Strength batch1/11– 96 points
Redbreast 12 Year Old Cask Strength batch1/12 – 97 points
Redbreast Aged 15 Years bottle 12 – 96 points
Green Spot – 94.5 points
Yellow Spot Aged 12 Years – 88.5 points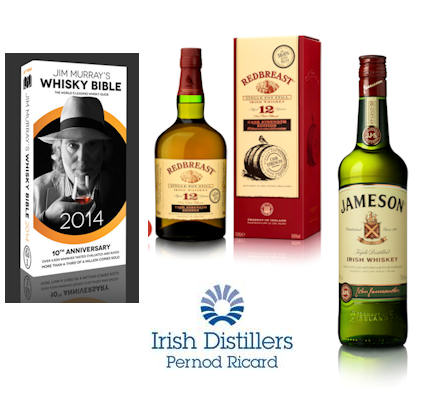 << Back to all the latest whisky news brought to you by Planet Whiskies