Latest Irish Whiskey Release | Irish Distillers Unveils Midleton Very Rare 2014 | 15th July, 2014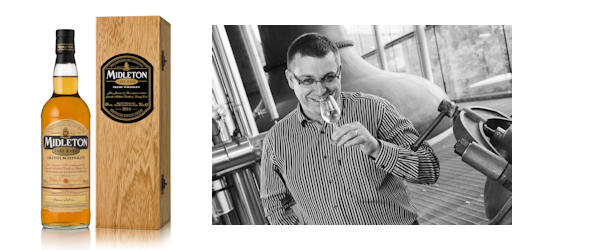 Irish Distillers Pernod Ricard has unveiled the 2014 edition of its prestigious Midleton Very Rare whiskey, the first to be hand selected by Master Distiller, Brian Nation, following his appointment in 2013.
For every Midleton Very Rare release, the signature of the Master Distiller is included on the label to provide the ultimate guarantee of quality. Midleton Very Rare 2014 is the first to bear Nation's signature on its label, continuing the tradition established by former Master Distiller Barry Crockett when he created the first Midleton Very Rare whiskey in 1984.
Available from this month in specialist retailers, Midleton Very Rare 2014 is blended from only the finest Single Pot Still and grain whiskeys, which have been matured in specially-selected, ex-Bourbon American oak casks that have been lightly charred on the inside to impart a complex and elegant taste profile. The components of this exclusive blend have been aged for up to 22 years, making it a real collectors' item.
Anna Malmhake, Chairman and CEO at Irish Distillers Pernod Ricard, says: "It's always exciting for us to release a new Midleton Very Rare expression as it really shows the outstanding quality that the Irish whiskey category has to offer, but this 2014 release is extra special as it heralds a new era for us as Brian Nation takes the reins from Barry Crockett at our Midleton Distillery.
"Midleton Very Rare is a whiskey with real provenance, produced at the distillery in Midleton using only the finest ingredients and is rightfully regarded as the pinnacle of Irish whiskeys by collectors and connoisseurs worldwide, who cherish the nuances of each release. As Brian carries on the Midleton Very Rare legacy, we look forward to more discerning drinkers around the world discovering the quality and provenance that Irish whiskeys have to offer."
Master Distiller Brian Nation
Master Distiller Brian Nation, added: "It is a real honour for me to continue the Midleton Very Rare legacy and to have my name on the label, where Barry's signature once was. I'm very proud of the 2014 edition, as it offers real complexity with a full taste of sweet spice, vanilla, and cinnamon, which lingers before slowly giving way to notes of barley. I am confident that it will provide whiskey fans around the world with the interesting and enjoyable tasting experience that they have come to expect from Midleton Very Rare over the years – and I look forward to hearing what Barry thinks of it too!"
<< Back to all the latest whisky news brought to you by Planet Whiskies