Chivas Regal Celebrates Heritage and Sartorial Style with New Limited Edition Collectible
Published Date: 13th September 2012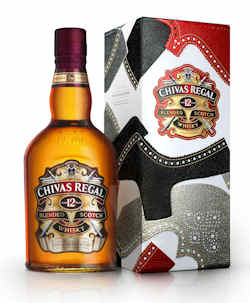 Chivas Regal, the original luxury whisky, has teamed up with British luxury shoe designer, Tim Little, to launch a limited edition collectible tin. Chivas Regal 12 Year Old Made for Gentlemen by Tim Little is the first in a series of annual collaborations with modern craftsmen who share a passion for style, discernment, heritage and creativity.
The limited edition tin - designed by Little, the owner and creative director of British luxury shoe label, Grenson - is inspired by the modern gentleman's wardrobe staple, the handmade brogue. The bold and masculine design aims to appeal to Chivas' largely-male customer base and features a stylish deconstruction of this classic shoe.
James Slack, Global Brand Director for Chivas Regal, comments: "Made for Gentlemen highlights Chivas' appreciation of heritage, craftsmanship and luxury. Our core customers are successful, modern gentlemen who seek style and substance in the brands that they connect with. Our collaboration with Tim Little taps into this insight – it's stylish, distinctive and, importantly, a modern take on the typical whisky gift tin."
Available in more than 60 markets worldwide from September 2012, orders for the Chivas 12 Made for Gentlemen Limited Edition by Tim Little have already exceeded two million units, making it one of brand owner Chivas Brothers' most successful limited editions to date. Participating markets include the UK, Germany, Thailand, Gulf and Colombia, with the UK RRP set at £25.39.
<<To see the history and buy whiskies from Chivas Brothers
<< Back to all the latest whisky news brought to you by Planet Whiskies