Bowmore Distillery - The Bowmore Water Program - 2nd April, 2013
If you would like to view all the malts from Bowmore Distillery please click here
BOWMORE® ISLAY SINGLE MALT SCOTCH WHISKY LAUNCHES
- THE BOWMORE WATER PROGRAMME -
FOR KEY ON-TRADE ACCOUNTS ACROSS THE GLOBE
Islay, Scotland (March, 2013) – Bowmore®, the first Islay Single Malt whisky, introduces The
Bowmore Water Programme, a global whisky and water education programme featuring hand-crafted water
dispensing units and staff trainings to key on-trade accounts around the world. The programme has been designed as an educational tool for the trade - and ultimately consumers – that explains what the addition of water does to your Bowmore Single Malt Scotch Whisky and that this practice is not an aberration as some might think, but can bring about another level of sensory (smell, sight) and gustatory (taste) experiences when enjoying Islay's most balanced single malt. The Bowmore Water Programme will roll out spring 2013 in the UK as well as North America and Asia.
The centerpieces of the Bowmore Water Programme are the exquisitely hand-crafted water dispensing units,
which exude the essence of the Bowmore Distillery and are certain to be the showpiece of any bar. In each
country, Bowmore will work with their distributors to identify key on-premise accounts that are supporters of
Bowmore and determine which water dispenser they would receive (Tier I, II). Once an account has been
confirmed, it will receive the Bowmore water dispenser, staff training and tasting and Bowmore's Water & Whisky Guide that describes in laymen's terms the chemical reaction and science behind adding water to whisky.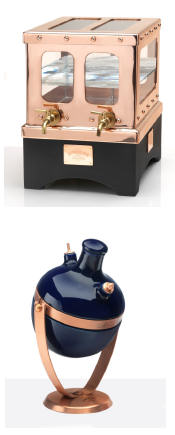 THE WATER DISPENSERS
TIER I: THE WATER SAFE. Hand-crafted and individually numbered, this copper water dispenser is inspired by the great spirit safe that resides within the Still Room of Bowmore Distillery. The Water Safe will ideally sit in a place of prominence behind the bar and will create the ultimate in water dispensing theater.
TIER II: THE TILTER. Hand-made and individually numbered, The Tilter is a more fun and quirky dispenser that tilts on an axis and allows a fine flow of water to be dispensed from one side or small droplets from the other.
Cara Laing, Bowmore Marketing Manager, states: "We are very aware of the great debate surrounding the addition of water to whisky and wanted to tackle this head on. We've created these innovative and beautiful water dispensers in the hope that people will discover for themselves their favorite way to enjoy their Single Malt, whether with or without water!"
THE SCIENCE BEHIND WATER & WHISKY
Bowmore is widely acknowledged to be among the most perfectly balanced single malts in the world, striking just the right chord between smoky and sweet. The sometimes polarizing question is: why add water? Rachel Barrie, Master Blender at Morrison Bowmore Distillers along with Cara Laing, Bowmore Marketing Manager, worked together to develop the Bowmore Water Programme, not to tell people how they should drink their whisky but to give whisky-lovers an option to explore and let them make up their own minds.
"Bowmore is an amazingly complex and harmonious whisky with an enigmatic flavour spectrum," says Rachel
Barrie. "The spirit takes the drinker on a sensory adventure through sweetness and ocean spices with multiple layers of fruit and smoke. Adding water allows the drinker to unlock Bowmore's waves of flavour on a journey through its creation. The taste adventure is just beginning."
Rachel Barrie, whose scientific background includes a 1st class Honours degree in Chemistry and a stint as a Research Scientist at the Scotch Whisky Research Institute, explains that when water is added to whisky, certain physicochemical changes occur in the glass some of which you can see, smell and taste:
• SEE. Viscimetric whorls develop. These are the eddies and threads created when fluids of different
viscosities mix.
• SMELL. As the alcohol and water combine, energy is released and the temperature of the liquid is initially
increased by about 2º C (an exothermic reaction), allowing the liquid to 'open up' and release more of the
volatile aromas. By reducing the higher alcohol strength, it enables our sense of smell to work better and
the aroma paradoxically seems to increase in intensity when first adding water.
• TASTE. The addition of water and the dropping of the alcohol strength creates a 'cooling' effect on the
tongue and makes us more receptive to salty and fruity tastes, rather than sweet and spicy. Therefore, we
discover different facets of Bowmore's taste profile than a dram taken neat.
By example, Rachel Barrie has developed tasting notes for Bowmore 12 Years Old, served neat and with 1 part water added to 2 parts whisky. Bowmore 12 Years Old is a complex and rewarding dram that combines Scottish barley, crystal clear water from the Laggan River, rich Islay peat (which both flavors the water and fires the distillery's kilns) and a 12-year maturation in Bowmore's legendary No. 1 Vaults.
Bowmore 12YO Neat Bowmore 12 YO With Water
NOSE Honey, toffee, lemon Fresh citrus and sea-salt, vanilla, almond and orange
TONGUE A balance of honey, lemon, Islay peat Peach, pineapple, lemon cream, brine, anise and hints
of mint
For more information, please visit www.bowmore.com and www.facebook.com/bowmore
For all enquiries contact Morrison Bowmore Distillers on +44 (141) 558 9011
<< View the range of Bowmore Single Malt Whiskies
<< Back to all the latest whisky news brought to you by Planet Whiskies
Distillery of the Month: November 2023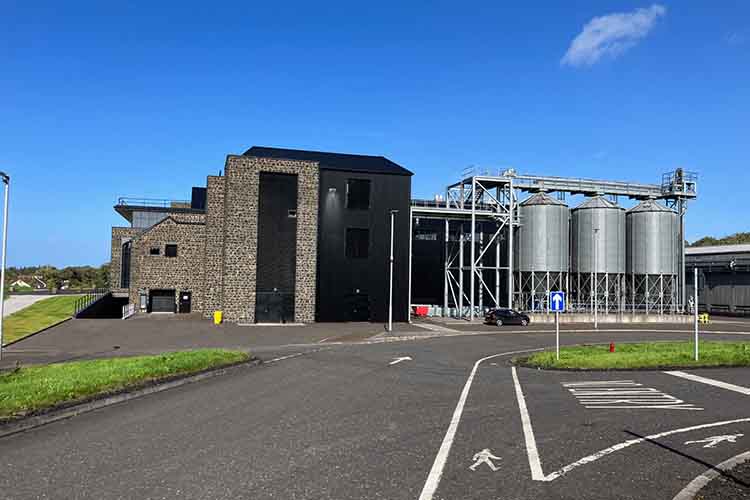 Planet Whiskies visited the new Bushmills Distillery in Northern Ireland on the 25th and 26th of September. Read our review of the experience of Bushmills and Northern Ireland at Planet Whiskies tour of Bushmills and Northern Ireland
You can also read the whole section about Bushmills Distillery at Bushmills Distillery Information on Planet Whiskies... So Bushmills is Planet Whiskies Distillery of the Month title for November 2023
Get Newsletter
Subscribe to our newsletter to get latest news, popular news and exclusive updates.