Benriach's Enhanced Peated Range Takes Customers Back to the Future
Published Date: 21st March 2012
from subtly-peated malts to peat so thick you could dance on it, the four are sure to become firm favourites!
INTRIGUINGLY, BenRiach's revamped range of peated single malts shows the award-winning Speyside distillery going back to its nineteenth-century roots to give its twenty-first century customers a truly unique and authentic taste experience.
Back in the 1800s, the majority of Speyside distilleries were producing pungent, peated whiskies, but this trend changed in the 1960s when the US market emerged and a softer, easier-drinking style of whisky was preferred.
BenRiach was one of the first Speyside distilleries of the modern era to release a peated expression, with the 10 year-old Curiositas in 2004. The majority of the distillery's output is the more traditional, non-peated style that most people associate with Speyside, but the peated range certainly represents a unique selling point.
Over the last few months, the distillery has been working to come up with a revamped, definitive range of four peated expressions that will be available on an ongoing basis. The final line-up can now be confirmed as Birnie Moss, Curiositas aged 10 years old, Septendecim aged 17 years old and Authenticus aged 25 years old.
From subtly-peated malts to peat so thick you could dance on it, the four are sure to become firm favourites!
Birnie Moss is an area of windswept moorland close to the BenRiach Distillery and it's this wild place that gives our single malt its name. This is a younger expression of peated BenRiach, capturing the peaty, phenolic characteristics at their most pronounced. It's also something of a "first" under the new owners, as it's the first core expression that uses whisky distilled under the new stewardship of BenRiach. Initially launched around three years ago, Birnie Moss has recently been re-packaged to synchronise it with the rest of the BenRiach range.
Curiositas, the 10 year-old, is BenRiach's core peated expression and has been available since the company formed in 2004. Traditionalists believe that peated malts achieve optimum balance of peat-bittersweet and oak infusion after ten years' maturation, and Curiositas proves that point superbly.
Septendecim, the 17 year-old, was only launched in January and already has acquired a reputation for being a magnificent, moody, multi-layered malt with fantastic length. On the palate, it gives sweet, concentrated peat flavours which dominate from the start. Bold and intense, the peaty heart is united with honey-infused raisins, roasted nuts and a luxurious leather impression. Overall, it's a real robust heavyweight, full-bodied and beautifully balanced with enormous impact. Septendecim is non chill-filtered and bottled at natural colour, with a strength of 46% vol.
And completing the impressive quartet is the full-bodied and audacious Authenticus, formerly available as a 21 year-old and now available and re-packaged as a 25 year-old peated single malt. At 46%, it's bright, warm and amber gold in colour. On the nose, it offers elegant aromas of ripe pineapple, fresh mountain herbs and a profusion of sweet peat. On the palate, it's a fantastic fusion of rich peat and smouldering embers bound together by fresh herbs - oregano, aniseed and chicory in particular. Overall, it carries terrific weight and development which leaves a powerful lasting impression long after the glass has been drained.
Sales Director Alistair Walker said: "Peated malt whisky production only represents approximately six weeks' worth of the annual production at BenRiach, but the peated whiskies have become an important part of the distillery's portfolio as they offer something new and unexpected from the Speyside region.
"We wanted to offer our consumers a range of peated BenRiachs that would span the age range – one that would both allow the development of the malt to be charted and also be available on a regular basis. Hopefully, with these four expressions, we will achieve that."
Read more about BenRiach at www.benriachdistillery.co.uk
See all the Single Malts Whiskies from BenRiach Distilery
Read more about the history and see contact details for BenRiach distillery
<< Back to all the latest whisky news brought to you by Planet Whiskies
Distillery of the Month: November 2023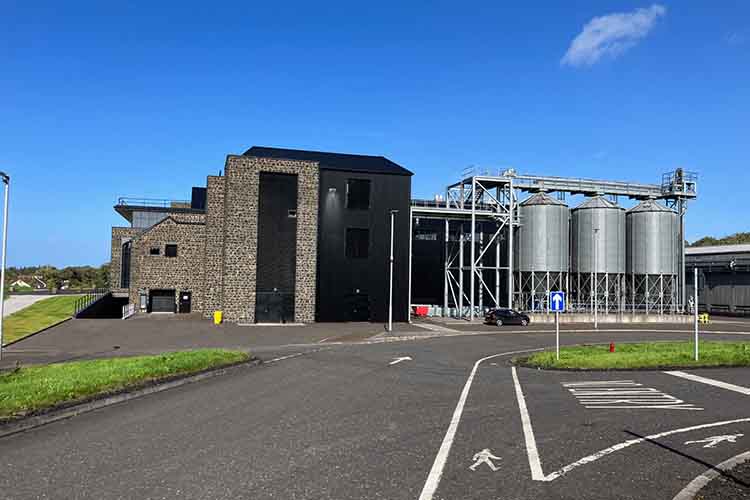 Planet Whiskies visited the new Bushmills Distillery in Northern Ireland on the 25th and 26th of September. Read our review of the experience of Bushmills and Northern Ireland at Planet Whiskies tour of Bushmills and Northern Ireland
You can also read the whole section about Bushmills Distillery at Bushmills Distillery Information on Planet Whiskies... So Bushmills is Planet Whiskies Distillery of the Month title for November 2023
Get Newsletter
Subscribe to our newsletter to get latest news, popular news and exclusive updates.