BenRiach Launches 10 Years Old Single Malt :: New core range expression marks a significant milestone for the Elgin distillery :: 8th April, 2015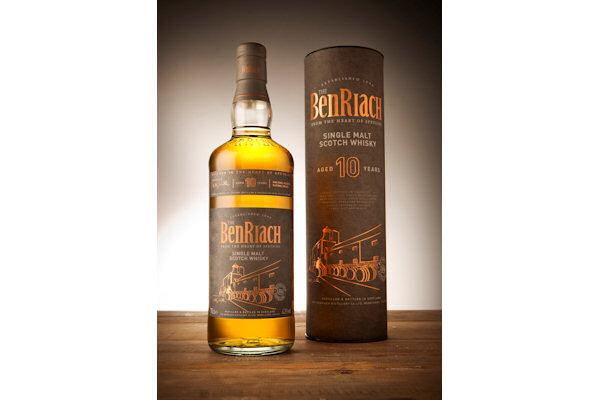 Global Whisky Distiller of the Year BenRiach has today (8 April 2015) launched a very special BenRiach 10 years old single malt.  
This release is a momentous high point for the award-winning Elgin distillery as the whisky is the first core range expression to be produced predominantly from spirit distilled under The BenRiach Distillery Company's eleven-year ownership.  
Managing Director Billy Walker and his South African partners Wayne Kieswetter and Geoff Bell acquired BenRiach from Chivas Brothers in April 2004.  
Bottled at 43% vol, the BenRiach 10 Years Old is Classic Speyside in character. The cask formula focuses on ex-bourbon and ex-sherry casks – exactly the types of wood we favour at BenRiach. This fresh, lively, fruit-laden single malt captures warm oak spices, green apple, dried apricots, peach and banana with subtle touches of aniseed, lemon zest and barley.  
Billy Walker's tasting notes show that this special single malt is a stunning addition to BenRiach's core range.  
Colour : Crisp summer gold.  
Nose : A fresh and lively combination of crisp, green orchard fruits, stem ginger and hints of tangerine mellows to creamy vanilla with a delicate note of mint and a gentle twist of citrus, all held together with a sweet barley back note.  
Taste : Warm toasted oak spices flood through green apple skins and dried apricots, ripening to hints of peach and soft banana. Subtle touches of aniseed and lemon zest create a contrasting edge to the fruit and add an intriguing character to the long, crisp barley finish.  
Sales Director Alistair Walker said: "Last year we released our tenth anniversary BenRiach bottling with four casks from the first week of distillation, but that was a strictly limited one-off expression.  
"Today's release is something different and is even more important for us going forward. The BenRiach 10 Years Old is a key new launch for us as it marks a significant milestone – it is the first core range expression to be created predominantly from whiskies distilled at BenRiach since we took over in 2004. We have, effectively, been working towards this single moment since we acquired BenRiach Distillery and the 10 Years Old expression will become the cornerstone of our range."  
Back in 2004, Billy Walker said he had modest but robust plans "to revitalise the distillery and target new markets, taking BenRiach to specialist outlets around the globe".  
His "modest" objectives have been more than met in the last ten years. Today, BenRiach is one of the country's most admired distillers, having added GlenDronach, Glenglassaugh and a bottling plant to its comprehensive portfolio.  
It is now trading in over forty countries worldwide with other emerging markets entering the negotiation stage. Over the ten years BenRiach has won numerous prestigious awards; only last month Whisky Magazine announced it was the 2015 Global Whisky Distiller of the Year.  
Earlier this year, the London Stock Exchange Group released its list of '1000 Companies to Inspire Britain' and The BenRiach Distillery Company was featured for the first time.
See all the Single Malts Whiskies from BenRiach Distilery
Read more about the history and see contact details for BenRiach distillery
<< Back to all the latest whisky news brought to you by Planet Whiskies