Ballantine's 12 Finds The Perfect 'Ballance' - 27th September, 2013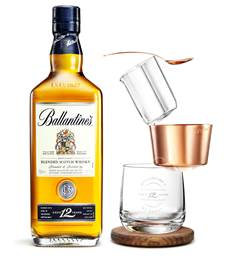 Ballantine's, the No. 1 whisky in Europe, has partnered with award-winning Swedish design trio FRONT to create Ballance, a unique and limited edition serving ritual for its Ballantine's 12 expression.
Ballance features a series of handcrafted objects which appear suspended in mid-air, creating a super premium design collectible. Comprising five essential items to create the perfect serve of Ballantine's 12, the sculpture is inspired by the delicate balance of flavours of this popular whisky and the artistry of Sandy Hyslop, Ballantine's Master Blender.
The foundation of the Ballance sculpture is a solid oak coaster, inspired by the oak casks used to mature Ballantine's whiskies. A contemporary, elegant whisky glass balances a trio of pieces; a copper ice bowl, in a tribute to the stills used in the distillery, a square shaped water jug, whose shape mirrors the silhouette of the Ballantine's 12 bottle, and - precariously balanced at the sculpture's summit - a copper spoon.
Each element of Ballance has the Ballantine's 12 by FRONT design collaboration burned, etched or stamped onto it so that they also stand alone as collectibles.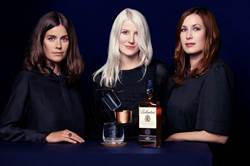 Sofia Lagerkvist of FRONT explains the design inspiration for Ballance: "We spent time with Ballantine's Master Blender, Sandy Hyslop, in Scotland and we learned that his craft is a highly skilled balancing act: first in channeling the influences of nature in ageing this particular Scotch whisky for a minimum of 12 years. Then, in blending Ballantine's 12, the flavours of an extensive collection of single malts and grains have to be precisely balanced to achieve a consistently smooth finish every time.
"Our design objects often communicate a story about process and, with Ballance, we were inspired by the materials involved in crafting Ballantine's 12 to create our serving ritual. We also like to prompt curiosity and challenge perception. The magical elements of the sculpture are a stylish, fun and very modern tribute to the alchemic transformation conducted by the Master Blender, whose unique skills have been passed down from generation to generation."
Sandy Hyslop, Ballantine's Master Blender, commented: "It was fascinating spending time with FRONT and exploring our shared passion for excellence. Ballance is as beautiful as it is functional – lending elegance and theatre to the serving ritual. With Ballance, the ultimate aim is for whisky connoisseurs to discover their own perfect balance in enjoying Ballantine's 12."
Only 150 units of Ballance will be released. Each set will have a recommended retail selling price of £350 or equivalent (currency dependent). Stockist information can be found at www.ballantines.com.
<< Back to all the latest whisky news brought to you by Planet Whiskies
Distillery of the Month: November 2023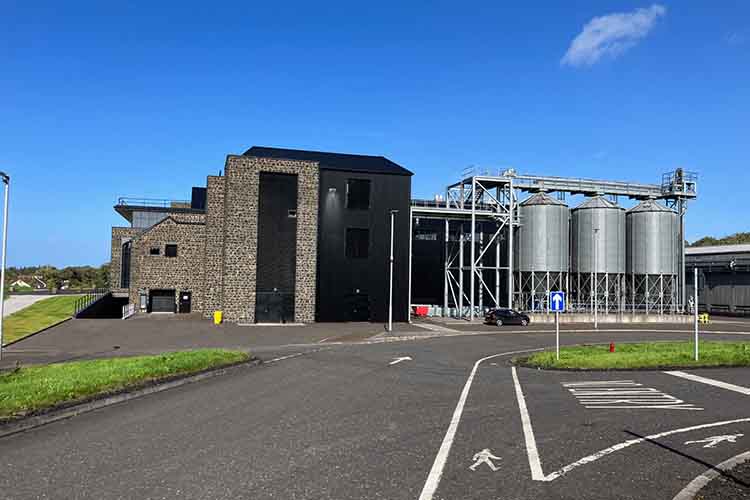 Planet Whiskies visited the new Bushmills Distillery in Northern Ireland on the 25th and 26th of September. Read our review of the experience of Bushmills and Northern Ireland at Planet Whiskies tour of Bushmills and Northern Ireland
You can also read the whole section about Bushmills Distillery at Bushmills Distillery Information on Planet Whiskies... So Bushmills is Planet Whiskies Distillery of the Month title for November 2023
Get Newsletter
Subscribe to our newsletter to get latest news, popular news and exclusive updates.