Auchentoshan Presents - National series of classically modern events - 3rd July, 2012
AUCHENTOSHAN PRESENTS…
A series of classically modern events that will exercise the brain with a mix of Single Malt Whisky served with a good measure of intelligent ideas and perspectives from some of the UK's leading creative experts.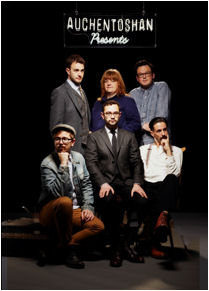 2010 and 2011 saw the birth of Auchentoshan Presents… a series of exciting and innovative parties with forward-thinking music promoters that smacked a punch into a laid back Sunday with acts including SBTRKT, Optimo and Jaques Renault (DFA). For 2012, Auchentoshan Presents… has evolved. Scotland's only triple distilled Single Malt Whisky is proud to announce partnerships with a collective of advocates who are contemporary experts in a variety of creative fields. Each one personifies the character of Auchentoshan by taking a traditional craft or idea and made it their own with a unique and modern attitude. This classically modern approach is what makes them stand apart, and why they fit so well with Auchentoshan.
This year's activity follows on from a successful experiential campaign in 2011, which introduced Auchentoshan to over 3,000 advocates and influencers. Thisseries, which will be supported with PR and social media, will bring to life the Classically Modern platform by working alongside partners who have, like the whisky, mixed the very best of the past with the very best of the future.
Kirsteen Beeston, Head of Brands Marketing at Morrison Bowmore Distillers, said, "We're really excited to be taking Auchentoshan Presents into its third year with such a great team of advocates. The aim was to evolve the series by stepping up the sharing of intelligent ideas and conversation to create the perfect backdrop to introduce both new and traditional whisky drinkers to the world of Single Malts."
Nick Barker, Cellar Trends Brand Manager for Auchentoshan, commented, "Auchentoshan continues to gain popularity in the on-trade, with the Three Wood expression fast becoming the bartenders favourite to use in classic cocktails such as the Old Fashioned alongside modern and innovative new serves. The Auchentoshan Presents series will continue to help drive momentum by increasing awareness of Auchentoshan and its positioning with both a new and existing customer base".
The events, which will take place across the UK from July-October, will combine a unique whisky tasting with innovative workshops in the advocates' field of expertise. These will include advice on gentlemen's grooming with a pop-up barbershop, to a hidden dinning experience in a secret location, to how to make a classically modern Old Fashioned and how to start a fashion label.
2012's Auchentoshan Presents advocates are:
· Murdock London – leader in traditional grooming for the modern gentleman

· DJ Ivan Smagghe – globe trotting and genre defying DJ

· Shacklewell Nights – pioneer of hidden dining experiences

· D.S.Dundee - premium menswear brand and tailors, Scotland born and London based

· DunneFrankowski - coffee creators, focusing on design, cafe culture and concepts

· Soulshakers – leading mixologists who have been at the forefront of cocktail design in the UK
In conjunction with this series of events Auchentoshan has created a 'Classically Modern' handbook with designers Herb Lester Associates www.herblester.com. The handbook offers an informative yet easy to follow guide to Single Malt Whisky and Auchentoshan. There are also tips on grooming, a classically modern playlist, cocktail instructions and other sartorial gems given by the advocates. These will be available to everyone who attends the AuchentoshanPresents…events.
Auchentoshan, pronounced ock-un-tosh-an, is a traditional and authentic Single Malt, distilled three times and matured in the finest wood, producing a smooth and delicate spirit; a complex, modern expression of a classic Single Malt Whisky. It is a whisky that's been produced with passion and enriched with heritage.
Auchentoshan Presents…National Tour:
Auchentoshan Presents… Murdock London & their pop-up classically modern barbershop and gentleman's grooming workshop
GLASGOW - Friday 13th July - The Corinthian (6-10pm)
LONDON – August tbc – Zetter Townhouse
Murdock was established by Brendan Murdock in 2006 to offer unique barbering services, classic grooming products and artisan accessories. They have firmly established themselves as a primary destination for the new gent-about-town. Alex Glover, Master Barber at Murdock in Liberty, will be hosting a pop-up barbershop and grooming workshop as part of Auchentoshan Presents…The night will include a talk on traditional grooming for the modern gentlemen, how to shave, and what products to use. Those that arrive early will be booked in for a complimentary barber experience of a wet shave, beard trim, express trim or hot towel facial. Consumers can then sit back and relax with Auchentoshan cocktails, tasting and sartorial delights.
Auchentoshan Presents… Soulshakers classically modern cocktail workshop
LEEDS - Sunday 26th August – The Wardrobe
Soulshakers will host a cocktail workshop and teach how to make a classically modern Old Fashioned.
Soulshakers have been in the vanguard of the cocktail renaissance since 2002. They havebeen responsible for some of the most successful bars, clubs and restaurants open today, raising the standard of drinks made on planes, at home and at music festivals around the world.
Auchentoshan Presents… Ivan Smagghe, Q&A and classically modern DJ Set
MANCHESTER – Sunday 9th September – Common
Ivan Smagghe belongs to the top table of DJs that journalists like to describe as "The DJ's DJ" He has created "genre-defying/defining" mixes for Bugged Out!, Death Disco, Fabric, Paris concept store Colette and the label Kill The DJ, which he founded and continues to A&R. He will be playing a classically modern set and taking part in a Q&A for Auchentoshan Presents...
Auchentoshan Presents… D.S.Dundee tailoring and classically modern fashion workshop & DunneFrankowski coffee workshop
BRIGHTON – October date TBC
D.S.DUNDEE is a premium menswear brand, Scotland born and London based. Inspired by British and Scottish heritage, sartorial style and casual classics, DSD creates a contemporary wardrobe – a one-stop shop for the discerning modern man. D.S.Dundee will be bringing down their founders and tailors to talk about how to set up a fashion label and tailoring tips. They are joined by DunneFrankowski who will be holding a coffee and whisky workshop Victor Frankowski is certified as a sensory judge for coffee competitions; he runsDunneFrankowski with Rob Dunne, teaching coffee-tasting and exploring links between coffee,design, and business.
Auchentoshan Presents… Shacklewell Nights classically modern Hidden Dining experience
EDINBURGH – October 28th– Secret location
Claire Roberson is one of the pioneers of London's secret dining scene with Green Onions Secret Supper Club and more recently with Shacklewell Nights, both of which have received huge praise and sell out in hours. Claire will be creating a pop-up dining experience with whisky and food matching for Auchentoshan Presents…
All events will be complimentary except Shacklewell Nights event where there will be a charge; people can sign up for a place through the Auchentoshan website or Facebook.
For more details on events and to reserve a place visit www.auchentoshan.com / or www.facebook.com/auchentoshan
UK Distributor: Cellar Trends on 01283 217703 or auchentoshan@cellartrends.co.uk
<< View the range of Auchentoshan Single Malts
<< Back to all the latest whisky news brought to you by Planet Whiskies