Crafted Upon Four Pillars :: The definitive Modern Australian Gin Debuts in the U.S :: 13th July, 2016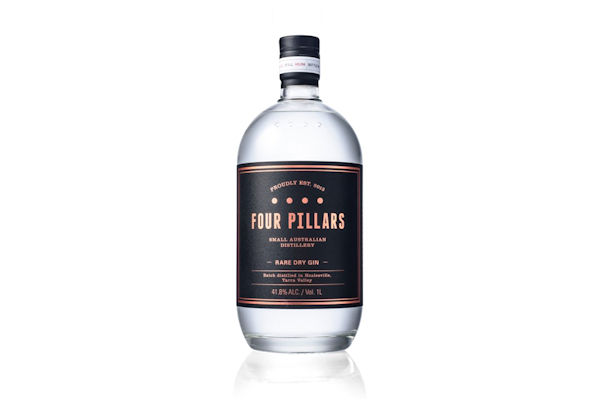 New York, NY — Four Pillars Gin, Australia's leading craft spirit and one of the most awarded gin brands globally of the past three years, has now arrived in the USA in limited quantities and will officially launch early summer.
Four Pillars was established in the Yarra Valley, Victoria in 2013 with a clear purpose and one common goal: to elevate the craft of distilling in Australia and celebrate the art of cocktail making.
And they have done that and more in three short years.
Four Pillars' distilling philosophy is based upon four unique pillars that inform every step of the process: magnificent stills, the best water in the world, exquisitely sourced botanicals and good old-fashioned love.
Four Pillars Gin is now set to debut in the United States in New York and California specifically this summer beginning with the release of its flagship multiple gold medal winning expressions, Rare Dry and Navy Strength expressions.
The Rare Dry Gin is at the heart and soul of Four Pillars. It is the first gin they ever made and is the distillery's unique take on what they believe modern Australian drinking should be about. The gin is juniper-forward,as all gins ought to be, but with additional exotic nuance courtesy of some indigenous Australian botanicals including Lemon Myrtle and Tasmanian Pepperberry leaf. And of course oranges. Lots and lots of fresh oranges which are loaded into the botanical basket for each individual batch distillation. All batches are numbered and the still is always named.
The Rare Dry (41.8% ABV 84 proof) has quickly become one of the world's most awarded gins. Less than six months after releasing Batch No.1, the Rare Dry was awarded a Double Gold at the San Francisco World Spirits Competition in 2014, and backed that up with another double goid medal at the same competition this year. No other gin ion the world has achieved this feat. In addition, it has also won gold at the IWSC Hong Kong and the Global Gin Masters in London. So it can safely be said this Aussie gin has properly global appeal.
"The rare Dry is our heart and soul, our essence, " says distiller and founder Cameron Mackenzie.
"It is also 80+% of everything we do – it is a brilliant gin for G&Ts garnished, of course, with oranges, it makes a fabulous soft, refined martini and its lifted citrus character makes it a terrific cocktail base, too."
Alongside the Rare Dry gin making its USA debut is the Four Pillars Navy Strength, coming in at a whopping 58.8% ABV (118 proof). This gin is not merely a muscled up version of the Rare Dry, it is in fact entirely its own beast – with many of the oranges subbed out for native Australian finger limes – an explosive citrus – think tiny bubbles of intense lime-y caviar. Also added to the botanical mix is fresh ginger and turmeric to add spice and rich mouthfeel. The result is an extraordinary gin of power and finesse – twice awarded Masters Status (the highest accolade) at the World Gin Masters conducted by Drinks Business magazine.
The early success of Four Pillars is no accident. The three founders, Stuart Gregor, Matt Jones and Cameron Mackenzie collectively have more than 50 years experience working in the wine, spirits and marketing industries in Australia and abroad.
Mackenzie, a former Olympic 400m runner (Athens 1996) is as fastidious as he is creative (Bloody Shiraz gin anyone?) and he now works in a state of the art distillery in a magnificent old timber yard in the heart of Healesville, Victoria – the centre of Victoria's epicurean heartland.
The Four Pillars gins are distilled in three stills themselves hand-made by Christian Carl in Stuttgart, Germany. The stills are named after the three founders mums – Wilma, Jude and Eileen.
Four Pillars has also appointed a Global Ambassador and Bartender-at-Large, Sam Ng who before joining Four Pillars was the Manager of Melbourne's most famous cocktail bar, the Black Pearl, a regular on any decent World Top 50 bar lists.
Four Pillars Rare Dry Gin 41.8% abv, 750mL SRP $38.
Four Pillars Navy Strength Gin 58.8& abv 750mL SRP $48
Four Pillars Rare Dry Gin
"Bow down to the new king of gin: Four Pillars. A group of gin crazy Aussies put together one of the most focused and high-quality gin distilleries in the world in the Yarra Valley and now we're fortunate to get a taste of that goodness here in the U.S. The Rare Dry gin simply explodes with citrus, a burst of fresh orange, but it still packs a lovely balance of juniper and spice with the most delicate and graceful of mouthfeels. This is high quality gin, pure and simple. It tastes like it was fussed over, formulated and retooled until it was perfect. I can't stop talking about it nor drinking it." David Driscoll June 2016.
Four Pillars Navy Strength Gin
The Navy Strength gin is not simply a higher proofed version of the Rare Dry from Four Pillars, but rather an entirely different formula. This one uses finger limes for a different citrus tone, but the balance of spice and botanicals is what ties both gins together. This is a bolder, brighter, more intense experience, but it's obviously made by the same team because the same attention to detail is prevalent. This is a world class gin of the highest quality, pure and simple. David Driscoll June 2016
<< Back to Gin Section of Planet Whiskies