The Magnum Whisky Bar - Albany street - Edinburgh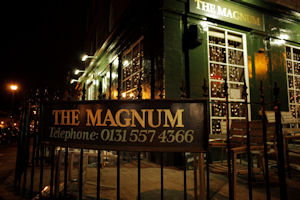 The Magnum Restaurant and Bar is situated in Edinburgh's Albany street just a short walk from the city centre in The New Town. A highlight at The Magnum is the wonderful array of whiskies on offer.
Here you will find over 70 whiskies to choose from, this includes a wide range of whiskies from a variety of different regions. Highlights include a smoky Islay Malt and a deliciously big bodied Highlands single malt scotch whisky, as well as these you will also find varieties from the Lowlands and Speyside.
Not much of a whisky drinker? The staff at The Magnum will happily recommend a dram to suit! However if you love your whisky The Magnum is the place for you, they happily invite you to try something new or take part in a taste test!
At The Magnum they encourage you to have fun with whisky, don't just stick to what you know! There is such a wide range to sample, and all wonderfully different varieties, flavours, and textures, that you will find it hard to leave till you have tried them all!
The food at The Magnum is just as exceptional as the whiskies on offer. Chef Paul Dow combines Scotland's best local ingredients with traditional flavours and serves classic Scottish dishes alongside fresh seasonal game and seafood. Diners have the option to mix and match from the a la carte and the bar menu, both of which offer excellent choice and even better flavour.
Setting the mood, the walls are decorated with whisky-inspired poetry from a local writer, fairy lights adorn the windows all year round and as you enter be drawn into the dark, seductive dining room – filled with candles. The cosy, comfortable vibe is very inviting and you can easily lose a few hours enjoying the food, whisky and atmosphere.
1 Albany Street Edinburgh EH1 3PY
Telephone : 0131 557 4366
https://themagnumrestaurant.co.uk/
<< Back to Famous Whisky Bars home page