Walsh Whiskey Distillery: Writers' Tears Red Head Wins The Masters: 10th August, 2017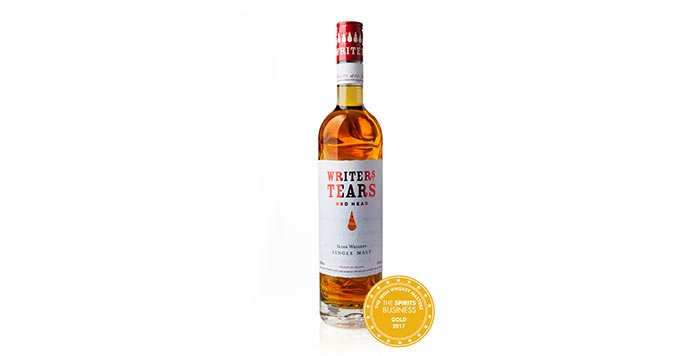 Royal Oak, Co. Carlow, Ireland – 9 August 2017: Walsh Whiskey Distillery is delighted to announce that Writers' Tears - Red Head, has been awarded Gold in the 'Premium Single Malt' category in this year's Irish Whiskey Masters. Organised by the prestigious London-based publication, The Spirits Business, the Irish Whiskey Masters is one of the leading annual Irish whiskey awards, seeking to reward excellence in appearance, nose, taste and overall balance. 
A renowned panel of leading spirits and on-trade specialists conducted an in-depth blind tasting of all entries before awarding Writers' Tears - Red Head with Gold. 
Writers' Tears - Red Head is the second expression in the Writers' Tears range, first released in 2016 andjoining Writers' Tears – Copper Pot (a unique vatting of Single Malt and Single Pot Still whiskeys).  
Writers' Tears Red Head is an exquisite, triple-distilled single malt, matured only in select handpicked Spanish sherry butts which have previously been seasoned with the finest Oloroso sherry. It is the influence of these scarce butts that give this expression of Writers' Tears its signature rich, ruby hue and hence the moniker – 'Red Head'. The expression is distilled without chill filtering as nature intended and at a distinctive 46% ABV. 
Writers' Tears Red Head offers hints of orange peel, dried fruits and sherry plums, alongside nutty Oloroso, spicy raisins and creamy oak, resulting in a long and wonderfully complex finish with a flourish of orange.  
Commenting on the award, Bernard Walsh, Managing Director of Walsh Whiskey Distillery, said: "Writers' Tears - Red Head showcases the exceptional influence that innovative cask maturation can have on the flavour of our whiskeys. This is a sumptuous single malt with a truly distinctive character and hue. We are delighted that the judging panel of the Irish Whiskey Masters have recognised this superior quality." 
<< Read more about Irish Whiskey
<< Read more about Irish Distilleries
<< Back to all the latest whisky news brought to you by Planet Whiskies