William Grant & Sons - £1BN Global Spirits Distiller Records Continued Growth - 30th September, 2013

Investment across core spirits brands and long term global infrastructure maintains success
Global premium spirits business and independent family distillers William Grant & Sons* has delivered a record turnover, topping £1 billion for the second year in a row (£1.06 bn). This is up 1.4% on the previous year in total. Turnover on the Company's core brands increased by 7% year on year. The Company delivered a Group Operating Profit of £124.8 million for 2012, down from £126.3 million in 2011.
Whilst the tough global economic conditions made 2012 a challenging year, with consumer confidence in Europe in particular remaining low, the Company continued to strengthen its business by investing in core brands and global infrastructure for the long term, which explains the slight reduction in profits.
Capital spend also increased in 2012 with additional investment in production capacity, the replacement of the Group's Enterprise Resource Planning system and upgrades to both Glenfiddich and Tullamore D.E.W. visitor centres. In 2012 the Company was awarded International Spirit Producer of the Year at the International Wine and Spirits Competition.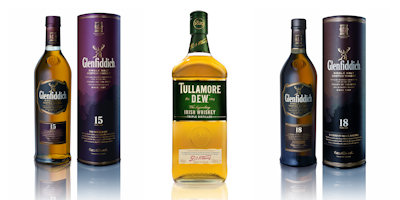 Glenfiddich, the world's number one and most awarded single malt Scotch whisky, celebrated the 125 year anniversary of the opening of its distillery in Dufftown. The brand developed 11 exclusive packs to celebrate the life of Mrs Janet Sheet Roberts, the grand–daughter of the Company's founder William Grant, who died in 2012. These packs generated over £400,000 for charities around the world. Tullamore D.E.W. Irish Whiskey upgraded the brand's packaging in 2012 to deliver more premium and contemporary values.
The Balvenie single malt Scotch whisky continues to grow rapidly and it launched in 2012 the most premium expression of the brand to date in The Balvenie 50 year old which has a recommended selling price of £20,000 per bottle. Hendrick's gin continues to lead the super-premium gin segment with rapid value growth across all regions. Sailor Jerry spiced rum launched its first ever TV advertising campaign designed to differentiate the brand. Grant's has maintained its recently acquired top 3 position in blended Scotch whisky.
In addition, the Group also continued to invest behind its innovation brands including Monkey Shoulder, Reyka Vodka, Solerno Blood Orange Liqueur and premium tequila brand Milagro.
Commented Stella David, William Grant & Sons' Chief Executive: "Whilst 2012 saw some difficult global economic conditions, the Company continued to perform well thanks to the continued success of our premium spirits brands and our consistent focus on building brand equity and investing for the long-term."
<< Back to all the latest whisky news brought to you by Planet Whiskies