Scotland's First Family of Scottish Oak: Whyte & Mackay announces landmark achievement with industry-leading Scottish Oak Programme
Pioneering Whisky Maker Gregg Glass achieves landmark in his industry-leading Scottish Oak Programme  
Published Date: 17th May 2022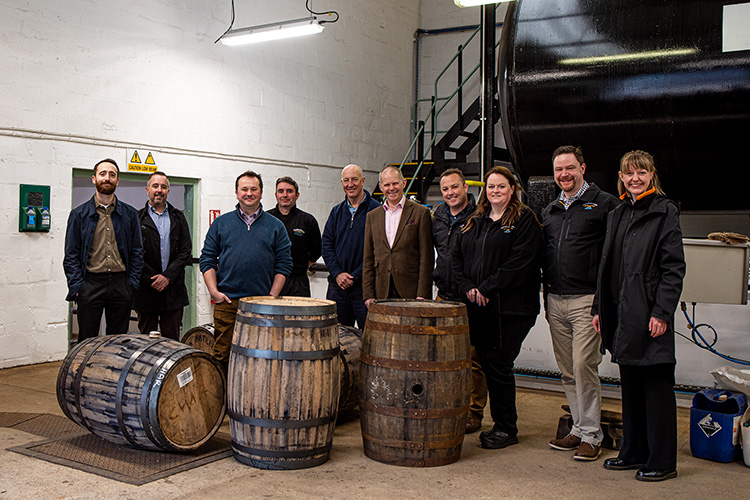 Esteemed whisky making house Whyte and Mackay has announced a landmark achievement, with every distillery in its collection now incorporated into the company's industry-leading Scottish Oak Programme - an industry first.
The initiative, founded by pioneering Master Whisky Maker Gregg Glass, led the industry to explore the potential for responsibly-sourced, locally grown Scottish Oak to mature Scotch Whisky. The industry has historically favoured Oak sourced from outside Scotland.
Tamnavulin, in Speyside, joined the programme this week as Mark Kent, CEO of the Scotch Whisky Association (SWA), joined the whisky makers to personally fill these special Scottish Oak casks.
The distillery follows island distillery Jura, and Fettercairn, located in 'the Garden of Scotland' - Aberdeenshire, where the initiative was born. Each distillery now has whisky experiments laid down to explore and evaluate the impact locally grown Oak has on each distinct distillery style and to identify the flavour characteristics that Scottish Oak lends to Scotch Whisky.
In doing so, the distilleries are paving the way for the wider use of responsibly sourced Scottish oak for future generations of whisky makers. Led by Gregg Glass, Whyte and Mackay's move towards Scottish oak maturation is an exploration into the unique flavour that the oak species possesses, as well as future-proofing both the sourcing and seasoning of cask options for the wider whisky industry, striving towards a more sustainable future.
Head of Whisky Experience at Whyte and Mackay, Ludo Ducrocq comments: "The filling of these special casks is really a celebration of the partnerships Whyte and Mackay has nurtured over time, which will ultimately benefit the whole industry."
Glass has been exploring the use of native oak species for many years through Whyte and Mackay's experimental arm, Whisky Works, which has previously celebrated the release of The King of Trees, a 10 year old blended malt finished in Scottish oak casks.
Since his appointment in 2016, Glass has developed long lasting partnerships with landowners and cooperages that share Whyte and Mackay's vision for the future. Rooted in exemplary forestry management and considerate cooping practices, Whyte and Mackay believes that focusing on responsible sourcing and meaningful partnerships will drive positive change in the industry, leading to better whisky for everyone. Glass explains: "The Scottish Oak Programme seeks to inspire change within the Scotch whisky industry. We want to champion the potential that home-grown oak offers the spirits industry, and the incredible diversity of flavour it offers the whisky maker."
PHOTO LEFT TO RIGHT
Joe Ricketts, Blender and Whisky maker
Kieran Healey-Ryder, Head of Whisky Discovery
Gregg Glass, Master Whisky Maker
Gavin Shearer, Distillery Team
Mark Kent, CEO Scotch whisky Association
Lindesay Low, Deputy Director - Legal Affairs, Scotch Whisky Association,
Shane Healy, Distilling Director Whyte and Mackay
Sam Douglas, Brewer Tamnavulin
Leon Webb, Distillery Manager Tamnavulin
Kirsty Hodge, Blender and Whisky Maker

More Whisky News