Tullibardine's latest expression, The Murray, scores a hat-trick in three global spirit challenges: 31st May, 2017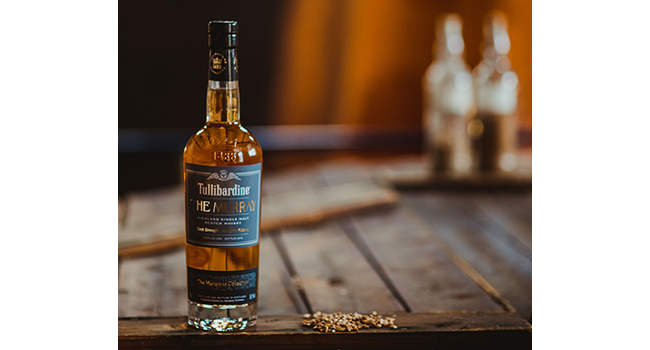 Photo credit: Marc Millar
The latest single malt to join the carefully crafted range at Tullibardine, The Murray, has recently celebrated a hat-trick of award wins, establishing its reputation as an exceptional whisky on the global stage.

The Murray (2004), was awarded a silver medal in the prestigious 2017 International Spirit Challenge, 95 points in the Ultimate Spirits Challenge and most recently the gold medal for Cask Strength Whisky and Top of Category at the Spirits Business Scotch Whisky Masters.

The recognition of dedication to craftsmanship and innovation in spirit creation impressed an expert judging panels the three rigorous, independently judged competitions of the world's finest spirits. The 12 year-old, cask-strength expression impressed the experienced panels with its brawny nose of peanut brittle, mushroom, wet autumn leaves, apricot, toffee and vanilla and its delightfully smoky finish.

The Murray was distilled in 2004 and bottled in 2016 after maturing entirely in first-fill bourbon casks at the Perthshire distillery. Released as the first whisky in Tullibardine's Marquess Collection, the expression is named after Sir William Murray, the 2nd Marquess of Tullibardine, and offers a new flavour profile that draws upon the local lands and waters from around the Ochil Hills.

John Torrance, Distillery Manager at Tullibardine Distillery said: "We're delighted that The Murray has been recognised at all three of these world renowned spirit competitions. It's a reflection of the remarkable taste profile, craftsmanship and quality of our single malt whisky.

"This is the first release in our Marquess Collection, and also the first of our range to be entirely distilled and matured at cask strength this century. Already a firm favourite in our collection, it's fantastic to see it triumph with a hat-trick of prestigious industry awards."

Later this year, Tullibardine will launch The Murray (2005) which will be the second release in the brand's Marquess Collection.

Now in its 22nd year, The International Spirits Challenge is recognised as the world's most authoritative, respected and influential spirits competition. The competition receives more than 1,300 entries from almost 70 countries each year.

The Ultimate Spirits Challenge is part of the esteemed Ultimate Beverages Challenge programme, providing expert evaluation of wines and spirits through its two innovative annual competitions: Ultimate Spirits Challenge and Ultimate Wine Challenge.

The World Whisky Masters is staged by The Spirits Business, who look to discover and reward the finest brands on the world stage, with excellence recognised across category, region, age, design and packaging.
<< View single malts from Tullibardine Distillery
<< Read more about the Tullibardine DIstillery
<< Back to all the latest new brought to you by Planet Whiskies