Latest Whisky News - Tomatin Celebrates Master Distillers 50th Year - 23rd June, 2011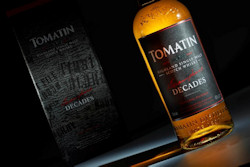 Tomatin Distillery is delighted to announce the release of a special limited edition bottling to celebrate Douglas Campbell, the current Master Distiller, 50th year of service with the company. Native to Tomatin, Douglas Campbell had worked for the distillery since 1961 in a number of positions before taking on the role of Master Distiller in 2008. In his current role, he spends much of his time assessing the thousands of casks that lie maturing in the vast warehouses of Tomatin or travelling around the world promoting the distillery's single malt.
In recognition of his 50 years service at Tomatin, Douglas has created a Single Malt using whiskies distilled in each of the 5 decades he has worked at the distillery. Starting with a 1967 cask and moving through each of the subsequent decades to the year 2005, Douglas has chosen whiskies that not only have very distinctive individual characteristics but are also versatile enough to marry together to create a single malt that is a genuine one off.
Called simply 'Decades', this single malt is a marriage of maturity and youth. It is a coming together of sherry and bourbon influenced whiskies, of differing ages, to create a single malt that has great depth of flavour but also a youthful charm that helps to invigorate the taste buds.
Decades has been limited to a world wide release of 9000 bottles, is non chill filtered and bottled at 46%abv. It comes in a prestigious gift box which has been designed to look like the internal char of a bourbon cask. It is expected to retail in the UK at 69.95GBP and across Europe at 80.00 Euros.
Robert Anderson, Chief Executive at Tomatin commented "This is a fitting compliment on the life and participation of Douglas in the evolution of the Tomatin style. Douglas, an inspiration to me when I took up my post in 1988, had already contributed 27 years to our distillery – quite an accomplishment".
Tomatin has also confirmed that they are enhancing their standard range by replacing the current 25 year old with a 30 year old Single Malt. Due to limited stocks the distillery plans to release 2000 bottles annually. This Single Malt has been crafted using both North American and European oak casks, it is non chill filtered, bottled at 46%abv and will retail for £125.00GBP in the UK market and 145.00 Euros across Europe.
Stephen Bremner Sales Director commented "this change has come about because of the phenomenal reception that our 30 year old release received back in 2007. By the time Tomatin reaches 30 years of age it has become very rich and full bodied and has a unique character that is dominated by a wealth of deep fruity aromas that you don't pick up in the younger expressions".
More details at www.tomatin.com.
<< View Tomatin Single Malt Range
<< View more details about the Tomatin Distillery
<< Read about Planet Whiskies tour of Tomatin DIstillery
<< Read more Graham Eunson Master Distiller
<< Back to all the latest whisky news brought to you by Planet Whiskies