Tobermory Distillery

Celebrates la

unch 12 year old Signature Expression
Published Date: 28th March 2019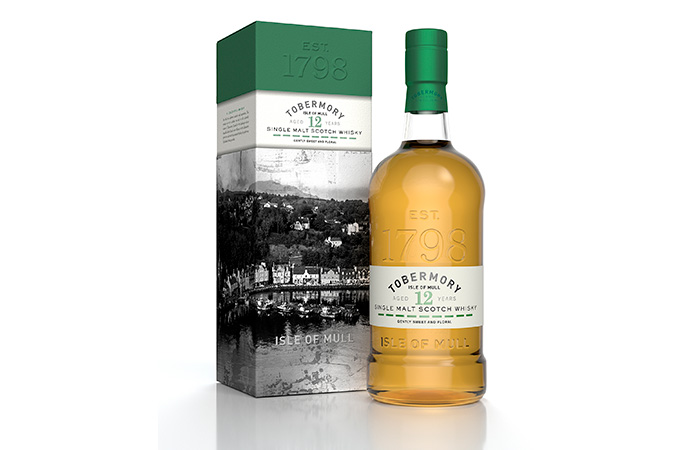 Tobermory, one of Scotland's oldest commercial distilleries, this week unveiled its new signature expression – the Tobermory 12 Year Old. 
The liquid was revealed at events in London and Glasgow, giving whisky enthusiasts the opportunity to be among the first to try the new spirit. Taking inspiration from the art of the Hebridean distillers, the venues were transformed into a gallery for the evening with the new malt as the star exhibit.  
Guests were taken on an artistic journey by Senior Blender, Kirstie McCallum and Brand Director, Derek Scott as they tasted the new Tobermory 12 Year Old. Its colourful palette of vibrant fruit and spice with a subtle saltiness that reflects the harbour waters at the distillery and the longer maturation, delivers a rich whisky full of character.  
Matured on the Isle of Mull in American oak casks for 12 years, the liquid has a cask strength of 46.3% and is non-chill filtered with a natural amber-gold colour.  
Commenting on the new signature expression, Senior Blender, Kirsty McCallum said: "The Isle of Mull is an idyllic place for whisky distillation and the Tobermory 12 Year Old echoes the rich character of our Hebridean home. Using non-peated barley and water from the distillery's private source, the whisky delivers sweet and spicy notes on the palette and perfectly complements Tobermory's passion for art in nature." 
The gallery theme for the events provided the perfect backdrop to display work by photographer Euan Miles. Euan's work showcased the essence of the distillery and the island on camera and has been used to create standout packaging across all the spirits produced at the Hebridean Distillery. During the evening, guests were also given the unique opportunity to view two original pieces of art donated to the distillery by Catherine Ross, who completed the first Artist in Residence programme at Tobermory last year. These included a small wooden boat crafted from an old whisky cask and a painting depicting Loch Frisa on the island. 
In addition to sampling the Tobermory 12 and the distillery's core range, guests received an exclusive preview of Tobermory Distillery's highly anticipated gin, which will be launched this summer. 
Derek Scott, Brand Director for Distell's Malt Whisky, said: "True to its home, the distinctive new Tobermory 12 is expressive in nature. It encapsulates the island's rich history and showcases the distillers' dedicated and creative approach to high-quality whisky making. Tobermory has been on a voyage of discovery over the last two years and we are delighted to be able to share this signature malt as part of an exciting new chapter for the distillery." 
Find out more about Tobermory Distillery at www.tobermorydistillery.com
<< View Scottish Single Malts on Planet Whiskies
<< Back to all the latest whisky news brought to you by Planet Whiskies