The Naked Grouse Scores a Hat-Trick - 12th August, 2011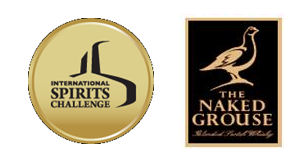 The Naked Grouse - the newest member of The Famous Grouse family - has won another gold award (best in category), this time at the International Spirits Challenge. This news comes only weeks after picking up rave reviews at the Scotch Whisky Masters and the Scottish Field Whisky Challenge 2011.
The rigorous judging panel featured nine whisky experts including some of the most well known and respected master blenders in the industry. Over an intense three day period the judges nosed, tasted and assessed 350 samples from all around the world. Their verdict on The Naked Grouse was that it has "good depth and maturity, <with a> long, rich sherried finish".
Gerry O'Donnell, Director, The Famous Grouse commented: "Any accolade from the International Spirits Challenge is highly respected within the industry, so we are delighted that The Naked Grouse has achieved a gold award and best in category. These judges have the best noses and palates in whisky, so to pick up top marks for our newest family member is a fantastic endorsement."
The Naked Grouse, which launched across the UK and in Russia in June, contains two of the world's most renowned malts – Highland Park and The Macallan, which are then slow-matured in first fill sweet sherry casks – amongst the most expensive in the world. This process gives the whisky an unrivalled smoothness of flavour, creating a new breed of Scotch that's sherried, ultra smooth and easy to drink.
The Naked Grouse is available in high end bars and retail outlets such as Royal Mile Whiskies, Vintage House, www.masterofmalt.com, Tesco and Asda priced at £27.69.
<< Back to all the latest whisky news brought to you by Planet Whiskies