The Whisky Shop Opens Flagship London Store - Piccadilly Store Sets New Standard for Whisky Retailing - 3rd December, 2012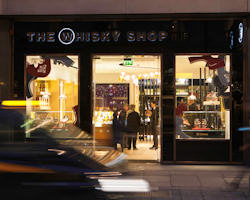 The Whisky Shop has set new standards for whisky retailing with the opening of its flagship store in Piccadilly, London.
The store, located across from The Ritz, is the first retail store in the UK to provide a dedicated platform for the world's most exclusive whiskies.
The Whisky Shop is the largest whisky retail specialist in the UK and the new store brings the total number of stores to 21 across the country. Piccadilly is the first flagship for the company and offers an unrivalled selection with over 400 single malts and blends including the Dalmore Constellation Collection at £158,000 and Royal Salute Tribute to Honour priced at £150,000.
Andrew Torrance, Managing Director of The Whisky Shop, said: "Historically whisky buying has been more functional but with this new store we are challenging the perceptions of traditional whisky retailing.
"We are focused on offering customers an experience which is luxurious and accessible as well as educational. We want to dispel many of the common myths about whisky and lead customers on a whisky journey of discovery."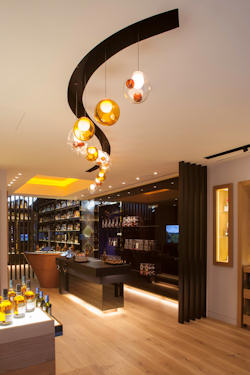 The store is designed to celebrate the heritage and craftsmanship of whisky through innovative interactive tasting displays as well as an information bar featuring iPad technology. The flagship is also supported in store by world class displays from Pernod Ricard and Whyte & Mackay featuring a range of brands including Chivas, Royal Salute, The Glenlivet and The Dalmore.
Christian Porta, Chairman and CEO, Chivas Brothers, the Scotch whisky and premium gin business of Pernod Ricard, said: "We are delighted to be partnering The Whisky Shop on this project, which promises to add a new dimension to the way premium Scotch is both sold and experienced in London.
"As the world's leading luxury Scotch company the opportunity to educate consumers about our products and the industry in such an engaging way, as well as showcase some of our latest innovations in such a fitting environment, made perfect sense."
David Brown, Whyte & Mackay Sales Director, commented: "The Piccadilly store challenges perceptions of traditional whisky retailing by providing customers with an involving experience. The store encourages interaction and engagement throughout, taking the customer experience to a new level."
The Whisky Shop is the UK's largest whisky only specialist with 21 stores nationwide. The flagship store is located at 70 Piccadilly, London and can be contacted on 0141 427 2977 or andrew@whiskyshop.com
<< Back to all the latest whisky news brought to you by Planet Whiskies
Get Newsletter
Subscribe to our newsletter to get latest news, popular news and exclusive updates.