The GlenDronach 26 Year Old 1992 Exclusive Cask #179 and Cask #180.
TheWhiskyBarrel.com releases more exclusive GlenDronach single casks; #179 and #180 
Published Date: 28th January 2019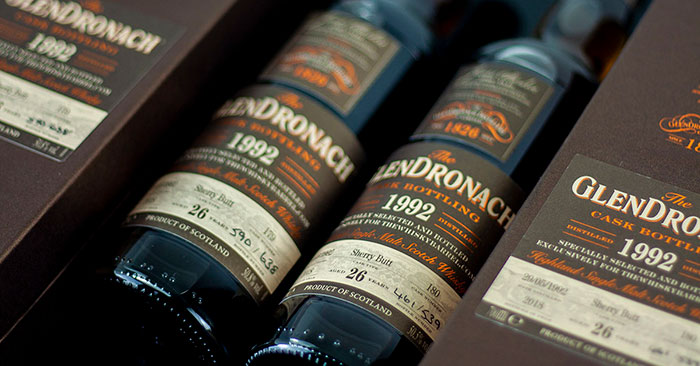 Specialist online whisky shop, TheWhiskyBarrel.com, is proud to release two exclusive single cask bottlings from the Highland distillery, GlenDronach. The GlenDronach 26 Year Old 1992 Exclusive Cask #179 and Cask #180. 
In November 2018 TheWhiskyBarrel.com released casks #8314 and #8315, both of which were, unsurprisingly, hugely popular. Casks #179 and #180 are expected to be just as popular, offering entirely different experiences, flavours and impressions of the renowned GlenDronach style. 
Distilled on the 29th of May 1992 and matured in a single sherry butt for 26 years, cask #179 was bottled in 2018 yielding 638 bottles at 50.8%. Tasting notes from the team at GlenDronach indicate warming Christmas spice on the nose and warming fruity crumble on the palate. 
Also distilled in May 1992 and bottled in 2018, cask #180 is, nonetheless, a different fish altogether. This bottling offers a more mature character with luxury dark chocolate and rich sherry notes. 
The GlenDronach distillery sits in the valley of Forgue, deep in the East Highland hills near Aberdeenshire. It is named after the source of its water; the Dronac burn. Founded in 1826, the distillery was one of the first licensed distilleries. Throughout the years, GlenDronach has maintained its true Highland style that stands it apart from other malts. Renowned as the masters of sherry cask maturation, the Highland whiskies are well recognised by their deep colour and rich flavours. 
GlenDronach has a very strong reputation in the whisky world. The Highland distillery under the ownership of Brown-Forman has continued to release highly prized single cask scotch. TheWhiskyBarrel.com is, therefore, delighted to have casks #179 and #180 to add to an exclusive quartet of the GlenDronach 1992 Single Cask bottlings. 
Available exclusively from TheWhiskyBarrel.com, shipping to customers Worldwide including the United States of America, Canada and Japan. 
See the full range of GlenDronach Single Malts
GlenDronach 26 Year Old Exclusive Vintage Single Cask | 1992 | Cask #179 for TheWhiskyBarrel.com | 50.8%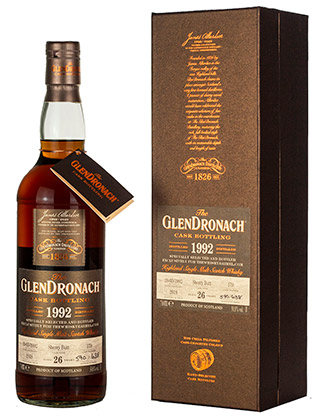 Tasting notes – Cask #179 
Colour: Copper 
Nose: Christmas spice with a zing of zest and notes of sweet toffee. 
Taste: Homely and warming apple, orange and cinnamon crumble with a sweet shortbread. 
Finish: Lasting sweetness balanced by the tartness of the fruit. 
Price: £269.95 GBP / $301.23 USD (+ P&P)
GlenDronach 26 Year Old Exclusive Vintage Single Cask | 1992 | Cask #180 for TheWhiskyBarrel.com | 50.5%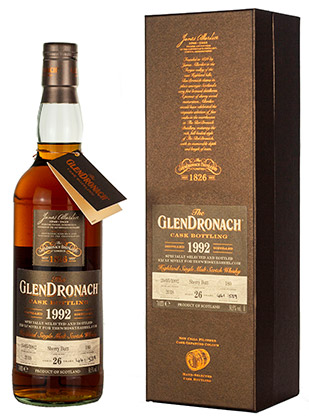 Tasting notes – Cask #180 
Colour: Amber 
Nose: Sherry, dark chocolate, raisins and nuts. 
Taste: Crumbly shortbread with notes of marzipan and sweet and salted toffee popcorn. 
Finish: A bold finish bringing the sweet and salty notes together in a satisfying union. 
Price: £269.95 GBP / $301.23 USD (+ P&P)


<< See the full range of GlenDronach Single Malts
<< View Scottish Single Malts on Planet Whiskies
<< Back to all the latest whisky news brought to you by Planet Whiskies