Latest whisky news - Smokehead takes the

Classic Rock

Roll of Honour Awards by storm

- 5th Nov 2009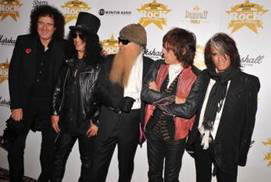 Style icon of the whisky world, Smokehead was the drink of choice at the fifth Classic Rock Roll Of Honour awards gala ceremony, which took place on Monday 2 November at the Park Lane Hotel, London.
"Smoke and Coke" was the star of the show along with rock superstars such as Iggy Pop, who was named 'Living Legend', and Ronnie Wood, who was presented with the 'Outstanding Contribution' award. Other winners sampling Smokehead on the evening included Band of the Year, Iron Maiden and Album of the Year winners, AC/DC.
Aimed at the modern, discerning and adventurous drinker, like the music, Smokehead is powerful, intense and not for the faint hearted. Guests sampled the whisky's immense peaty flavours simply with a drop of water, over ice or in a classic combination - "Smoke and Coke".
Classic Rock Magazine's Editor in Chief Scott Rowley said, "It was amazing to see a contemporary Scottish whisky go down so well with our international rock idols."
Iain Weir, Marketing Director for Ian Macleod Distillers, Smokehead's brand owners commented: "It was fantastic how well Smokehead was received by the living legends of rock. The stylish and edgy personality of the whisky combined with powerful smokey flavours is perfectly suited for the heavy hitters of rock music."
Described as being like a cannonball, Smokehead is an explosive combination of peat, smoke and spice with some delicate sweetness. The single malt flavour is described as fresh, fruity and immense, with notes of sherry, iodine, toffee, smoke and sea salt. The taste hits the palate at once with cocoa, peat and some honey sweetness, before exploding with peppery spice and more earthy peat.
Smokehead is widely available throughout the UK and worldwide, RRP £29.99. Details of all stockists, including Sainsbury's can be found on the website www.smokehead.co.uk
Curious to discover more, visit www.smokehead.co.uk
Smokehead Islay Single Malt Scotch Whisky encourages responsible drinking
www.drinkaware.co.uk ~~ www.scotch-whisky.org.uk
<< Back to all the latest whisky news brought to you by Planet Whiskies